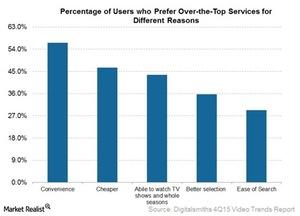 Why Are Stacking Rights Valuable for Disney's ABC Network?
By Shirley Pelts

Updated
ABC's stacking rights deal
In the previous part of this series, we learned about how The Walt Disney Company's (DIS) ABC Network is becoming a valuable strategic asset for the company. In this part of the series, we'll look at how Disney is further enhancing the value of the cable network.
In March this year, the ABC Network entered into a stacking rights deal with Time Warner's (TWX) Warner Bros. Television Group. Under the terms of the deal, all the episodes of a television series from Warner Bros. will be made available "on demand" in different ways, against the current practice of making "only the trailing five in-season episodes" available. This deal will be applicable to all television series from Warner Bros. available on Disney's ABC Network "in the 2016–17 and the 2017–18 seasons."
Article continues below advertisement
Stacking rights allow a cable network to distribute programming through pay-TV as well as video-on-demand services. For Disney's ABC Network, the deal would also make Warner Bros. television programming available on Hulu, a streaming platform that is co-owned by Disney, 21st Century Fox (FOXA), and Comcast's NBCUniversal (CMCSA).
As the above chart indicates, and according to Digitalsmiths' 4Q15 video trend report, the majority of users surveyed, about 56.5% of 3,120 consumers, stated that they prefer over-the-top services such as Hulu for the convenience of watching content anytime. Around 46.5% prefer watching content online as it is cheaper, while 43.6% prefer binge-watching content on over-the-top services.
Rationale behind stacking rights
In a press release, Disney stated that despite the fact that most television series being produced by ABC Studios are stacked on Hulu, the "rolling 5" rule was hindering consumers. According to the "rolling 5" rule, "if a show was more than five episodes into season, a viewer's options were to buy individual episodes or series on iTunes, waiting until they could catch up the next season through a streaming on-demand service like Netflix or Amazon—or never watch at all."
Stacking rights could allow the ABC Network's programming to reach more consumers, allowing them to binge-watch a television show. This would also boost ABC's advertising inventory. Disney makes up 0.83% of the SPDR S&P 500 ETF (SPY). SPY has a 3.5% exposure to the computer sector.