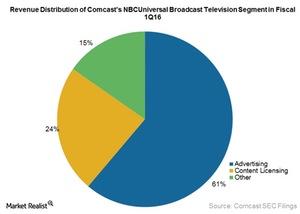 Why Is Sports Programming Important for Comcast?
By Shirley Pelts

Updated
Sports broadcasting fuels rise in advertising revenues
Earlier this month, Multichannel News reported that Comcast's (CMCSA) NBC Sports Digital is set to launch Playmaker Media, a service that will provide "end-to-end support" for partners that are looking to deliver live and on-demand streams." The IOC (International Olympic Committee) would be this service's first client. Playmaker Media will provide support to the live streaming of the Olympic Committee's Olympic Channel, which is expected to launch later in the year.
Article continues below advertisement
Comcast reiterated the importance of sports programming for the company at the JPMorgan (JPM) Global Technology, Media and Telecom Conference. It stated that "And what you're trying to do on the content side is make sure that you're using live programming of which sports is the best, among the best, to reach audiences and make your networks and channels must-have for carriage in all forms. So it helps drive retrains fees and affiliate fees obviously on the revenue line for the content side of the house."
Comcast's NBCUniversal Broadcast Television business earns the majority of its revenues from advertising and retransmission revenues. In a bid to step up its advertising revenues, this segment has acquired sports broadcasting rights for the 2016 Summer Olympics in Rio de Janeiro, Brazil (EWZ). Earlier this year, the company announced that NBC and CBS (CBS) will telecast five Thursday night football games each.
Importance of the Olympics games for Comcast
Late in April of this year, Comcast announced a deal with Snapchat to broadcast highlights from the Olympics on the NBC Rio Olympic channel on Snapchat's Discover platform. Snapchat users who attend Olympic games can also share videos and photos from the Olympics on Snapchat's "Live Stories."
According to a Re/code report from April, Comcast's NBCUniversal is also talking with Facebook (FB) and Twitter (TWTR) regarding similar deals for the Olympics. Comcast has stated that it has already achieved $1 billion in national advertising sales for the Rio Olympic Games.
As the chart above indicates, advertising made up 61%, or $1.3 billion, of NBCUniversal's broadcast television's total revenues of $2.1 billion in 1Q16. Comcast makes up 0.84% of the SPDR S&P 500 ETF (SPY). SPY invests 3.6% of its holdings in the computer sector.