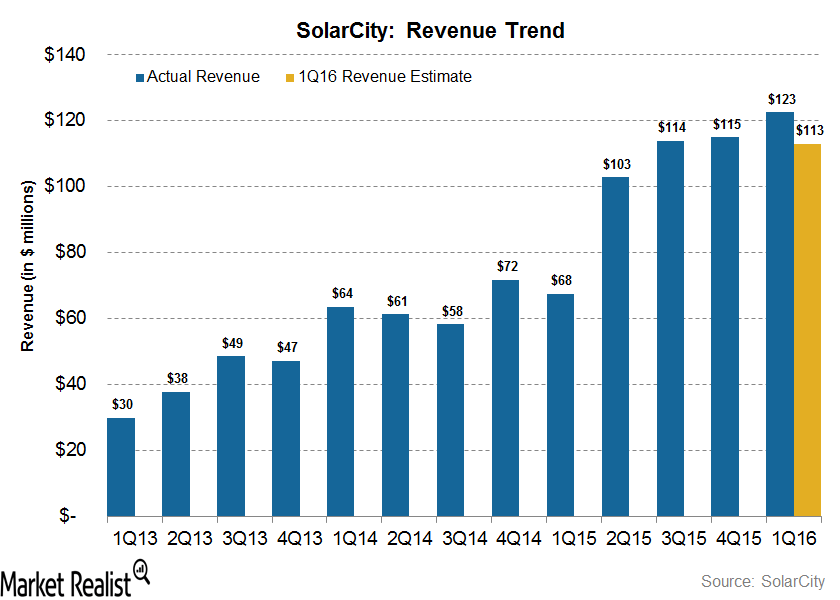 SolarCity Beat Analysts' 1Q16 Revenue Estimates
SolarCity's revenue
SolarCity (SCTY) reported $123 million in 1Q16 revenue against analysts' consensus estimate of $113 million. This is an ~81% increase on a year-over-year (or YoY) basis and a ~7% improvement on a quarter-over-quarter (or QoQ) basis.
Article continues below advertisement
Segmental revenue
SolarCity reported its 1Q16 revenue under periodic billings, solar energy systems and components sales, and operating lease prepayments and upfront incentives segments. Revenue from the periodic billings segment came in at $84.2 million compared to $41.5 million in 1Q15. Revenue from the periodic billings segment includes periodic operating lease billings, incentives, the sale of solar renewable energy credits, and revenue from solar energy systems under long-term loan agreements (revenue from sales under MyPower contracts).
Solar energy systems and components sales revenue witnessed nearly 90% growth on a YoY basis. Revenue from this segment came in at $22.0 million compared to $11.6 million in 1Q15. On the other hand, revenue from operating lease prepayments and the upfront incentives segment came in at $16.3 million compared to $14.4 million in 1Q15.
Why was there a deviation?
As discussed earlier, SolarCity's MW (megawatt) installation in 1Q16 came in at 214 MW against 1Q16 guidance of 180 MW. The increase in overall installations resulted in higher 1Q16 revenue for SolarCity.
Future revenues of downstream solar (TAN) companies such as Sunrun (RUN), Vivint Solar (VSLR), and the downstream operations of SunPower (SPWR) largely depend on their MW installation growth. A higher installation growth rate implies higher future revenues for the company. In the next part of this series, we'll look at SolarCity's cost performance for 1Q16.