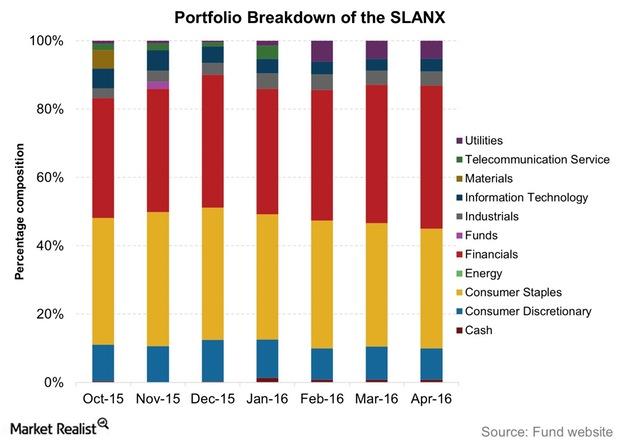 How Is SLANX's Portfolio Positioned Year-to-Date in 2016?
By David Ashworth

May. 9 2016, Updated 2:50 p.m. ET
Deutsche Latin America Equity Fund overview
The Deutsche Latin America Equity Fund Class A (SLANX) seeks long-term capital growth by investing "in Latin American common stocks and other equities (equities that are traded mainly on Latin American markets, issued or guaranteed by a Latin American government or issued by a company organized under the laws of a Latin American country or any company with more than half of its business in Latin America)."
SLANX's asset manager defines Latin America as "Mexico, Central America, South America and the Spanish speaking islands of the Caribbean."
The fund's literature states that its managers focus on three themes while constructing its portfolio:
Bottom-up research seeks companies with strong fundamentals.
Growth-orientation seeks growth-oriented companies.
Regional analysis focuses on stocks that may benefit from social, economic, industrial, and demographic changes.
Article continues below advertisement
SLANX's assets were invested across 44 holdings as of March 2016, two less than in the last quarter. SLANX was managing assets worth $244 million as of March's end. As of November 2015, its equity holdings included Empresa Nacional de Electricidad (EOC), Cencosud (CNCO), BRF (BRFS), Embotelladora Andina (AKO.B), and Enersis Américas (ENI). The fund's top ten holdings formed 54.3% of its March assets.
Portfolio changes in the Deutsche Latin America Equity Fund
The financials and consumer staples sectors drive SLANX. This is because these two sectors combined form 77% of the fund's portfolio. The consumer discretionary sector is the only other sector whose portfolio weight reads in the double digits.
Out of the ten GICS (Global Industry Classification Standard) sectors, SLANX is invested in only six. It's not invested in the healthcare, energy, telecommunications services, or materials sectors. This makes its portfolio positioning unique.
Though the fund is not invested in four of the ten GICS sectors, it was invested in three of them in the one-year period leading up to April 2016. The fund exited the energy sector in the middle of 2015. It introduced telecommunications services stocks into its portfolio in October 2015, but it dumped them early in 2016, and it exited the materials sector in 4Q15.
A look at the graph above is explanatory of the sea of change that the fund's portfolio has undergone in the small period of seven months.
SLANX has seen quite a bit of churn recently. Except for stock picks from the consumer discretionary sector, the fund's management has hardly stuck to more than a few of its holdings from other sectors.
Has this shifting stance worked for SLANX in the first part of 2016? Let's take a look in the next article.