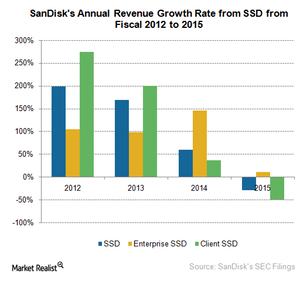 SanDisk's Fiscal 1Q16 Results: What a Surprise!
By Puja Tayal

May. 4 2016, Published 4:45 p.m. ET
Surprise is the new trend for the March 2016 semiconductor earnings season
This earnings season is full of surprises for the semiconductor industry. While some companies are posting growth, others are reporting declines. To date, Advanced Micro Devices' (AMD) fiscal 1Q16 earnings have been the biggest surprise, with the company expecting to return to profits in fiscal 2Q16. SanDisk (SNDK) has now posted surprising results for fiscal 1Q16, which ended April 3, 2016. The company reported revenue growth after a year of revenue declines and being forced to merge with Western Digital (WDC).
SanDisk reported earnings growth, but WDC reported a decline in earnings. In this series, we'll see why SanDisk's growth came as a surprise and what made WDC earnings decline.
Article continues below advertisement
SanDisk's SSD journey
SanDisk started its business by manufacturing memory cards and USB flash drives for consumers. In 2011, it started manufacturing SSDs (solid state drives) used in consumer laptops, smartphones, and data centers. The SSD segment, especially the client SSD, reported strong growth between 2011 and 2013. But growth slowed down in 2014 as PC (personal computer) and smartphone sales flattened in emerging markets (EEM). To make matters worse, the client SSD revenue fell 50% YoY (year-over-year) in 2015 as global PC sales fell and smartphone sales slowed down.
Why SanDisk's earnings came as a surprise
SanDisk's client and enterprise SSD segment reported strong growth in fiscal 1Q16, when Gartner reported a 9.6% YoY (year-over-year) decline in global PC shipments. Sterne Agee CRT analyst Douglas Freedman said, "What is encouraging is that client SSD is doing well while the PC market is not doing very well. You are seeing clear share gains from SSDs against hard drives in the PC market."
During this slowdown, SanDisk benefited from a shift in the preference of laptop makers toward SSDs. However, the company is moving down the supply chain to manufacture non-volatile NAND (negative-AND) flash chips used in SSDs. It's currently working with Toshiba (TOSBF) to ramp up production of 3D NAND flash chips in Japan (EWJ) to compete with Samsung, Micron Technology, and SK Hynix in terms of prices.
In the next part of the series, we'll look at the key fundamentals of SanDisk's fiscal 1Q16 earnings.