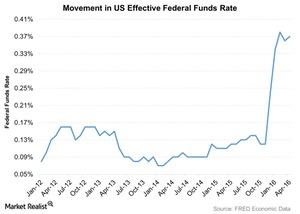 Why Sam Zell Believes the Fed Has Deferred Reality for Too Long
By Lynn Noah

May. 31 2016, Published 4:57 p.m. ET
Sam Zell
Sam Zell, a real estate tycoon and chair of Equity Group Investments, said in an interview wth CNBC on May 24, 2016, that "the Federal Reserve should have raised interest rates two years ago."
According to Zell, the Fed has deferred reality for so long that it now has no other option than to raise rates for the sake of its credibility. He's concerned that prolonged low interest rates in the United States have desensitized the business community to the cost of capital, leading to distorted markets.
Article continues below advertisement
Cost of capital
Zell asked, "If something is free, is it valued? Is it appropriately risked?" He continued, "We know that the cost of capital ain't free. Every time you defer facing up to the cost of capital, it's going to catch up to you. That I think is the biggest concern."
Zell's comments suggest that the Fed should increase the pace of its tightening of monetary policy. The Fed raised interest rates by between 0.25% and 0.50% for the first time in nearly a decade in December 2015.
For making directional bets on interest rates, you could consider funds such as the iShares 20+ Year Treasury Bond ETF (TLT), the Dreyfus US Treasury Long Term Fund (DRGBX), and the T. Rowe Price US Treasury Long-Term Fund (PRULX).
Zell issues market warnings
Zell is concerned that world trade has fallen significantly due to currency discrepancies. According to the world trade monitor from the Netherlands Bureau for Economic Policy Analysis, the value of world trade in 2015 fell by nearly 14% compared to the previous year.
Zell also highlighted that regulation is killing growth in businesses. He stated that he would cut regulation by 50% if he were to become the president of the United States.
In the next article, we'll look at why Jeffery Gundlach doesn't see the rate hike coming in June.