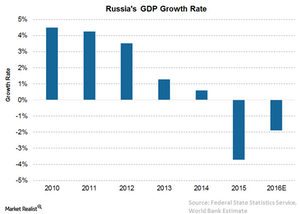 Russia Must Develop a Sustainable Long-Term Economic Growth Model
By Terry Simpson

Updated
We're neutral toward Russia
Undoubtedly, Russia is the BRIC member with the most to gain from recovering oil prices. Russia reaped the benefits of the oil price boom starting in the early 2000s, averaging 7.1 percent GDP for the six years ending in 2008. Last year, oil revenue accounted for 45 percent of Russian government revenue, according to an analysis of data accessible via Bloomberg. But Russia's economy has suffered more recently, following declining oil prices and economic sanctions imposed by the U.S. and eurozone. The country entered a recession in 2015 and is expected to produce negative growth again in 2016, based on consensus forecasts available via Bloomberg.
Article continues below advertisement
A flexible currency has allowed Russia to quickly adjust to economic difficulties, and Russian markets are receiving inflows following rebounding oil prices. However, we need to see sustained economic momentum and a more sustainable long-term economic growth model not so dependent on oil. Thus, in the context of an EM portfolio, we advocate remaining neutral this BRIC.
Market Realist – Oil revenue dominance takes a toll on the Russian economy
Russia's (ERUS) economy contracted 3.7% in 2015 compared to growth of 0.6% in 2014. The economic contraction in 2015 was the highest since 2009, mainly due to a decline in oil (IEO)(IEZ) prices and sanctions from Western (ACWI)(IEFA) countries over the conflict in Ukraine that prevented Russian companies from accessing international financing. Amid falling oil prices, the World Bank estimates that Russian GDP contracted 1.9% in 2016.
The shrinking economy pushed many Russians into poverty. Data from Russia's statistical service showed that 3.1 million people were forced into poverty in 2015. The World Bank expects poverty levels to increase in 2016.
Russian consumers are also suffering as real wages and disposable incomes fall. According to the Rosstat state statistics service, real wages in Russia fell 9.5% in 2015 and 3.9% in the first quarter of 2016.
Though the economy still heavily depends on oil, it's shown a lot of resilience. The weak ruble and import substitution measures are likely to support local manufacturing in the long run. On the other hand, inflation fell from 12.9% in 2015 to 7.3% in March. Falling inflation creates a background for monetary policy easing.
Though there are some bright spots, the economy isn't expected to turn around in the next few quarters due to lower oil prices and ongoing contraction in domestic demand. Russia's longer-term growth prospects will depend, to a large extent, on its structural reforms. Until then, with oil prices hovering around $44 per barrel, Russia's market isn't expected to post significant gains.