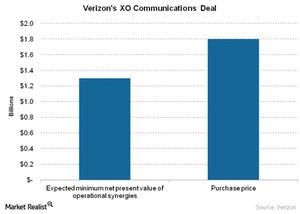 The Road to 5G: Verizon on Its Initial Challenges
Verizon on initial 5G deployment
During the MoffettNathanson Media and Communications Summit 2016 held on May 19, 2016, Fran Shammo, Verizon's (VZ) executive vice president and CFO, discussed the company's key challenges in its deployment of 5G.
Shammo said, "So when you think about commercial launch, when spectrum is freed up, when the standards are made, anybody's guess at this point, but it is not going to be in 2017." He added, "I think the industry commercially with the manufacturers and where we are with our network, we could actually go as early as 2017. The overhang here is, first and foremost, you need standards set."
Article continues below advertisement
5G spectrum
Regarding the 5G spectrum, Shammo noted, "We currently have 28 given to us from the FCC for trial purposes. And as you know with the XO acquisition, we have an option to buy more 28 gigahertz. But we have to get that scenario set because the standard may be set at 39." He added, "But really then, once you get the standard set then it comes down to the FCC." He stated that freeing up the spectrum for 5G "is probably going to be a little slower roll."
In February 2016, Verizon signed the purchase agreement for XO Communications's fiber assets in an ~$1.8 billion transaction. The company expected to complete this transaction in 1H17.
5G versus 4G
According to a March 13, 2015, Recode article, the expected theoretical peak download speed of 5G is 10 Gbps (gigabits per second). The latency for the technology is expected to be ~1 millisecond. The theoretical peak download speeds and latency of 4G are 1 Gbps and ~50 milliseconds, respectively.
For diversified exposure to select telecom companies in the US, you may consider investing in the SPDR S&P 500 ETF (SPY). This ETF held a total of ~2.7% in AT&T (T), Verizon (VZ), CenturyLink (CTL), Frontier Communications (FTR), and Level 3 Communications (LVLT) at the end of April 2016.