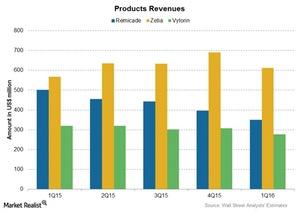 Why Is Remicade Driving Down Merck's Performance?
By Mike Benson

Updated
Remicade
Remicade is one of Merck & Co.'s (MRK) blockbuster drugs. It's one of its top-selling drugs for the treatment of inflammatory disorders. However, after the loss of exclusivity in European markets in February 2015, Merck has reported a constant decline in Remicade revenues. Johnson & Johnson (JNJ) also has marketing rights to Remicade for certain countries outside Europe.
Article continues below advertisement
Remicade revenues
Remicade revenues declined by ~30% to $349 million in 1Q16, compared to $501 million in 1Q15. This was mainly due to the entry of generic competitors and biosimilars following the loss of exclusivity in European markets.
Merck expects Remicade revenues to decline further since new patients are concerned with pricing rather than drug administration methods. They're expected to prefer biosimilars over Remicade.
Other drugs in the inflammatory franchise
Simponi is another drug in Merck's inflammatory franchise. Simponi revenues increased to $188 million in 1Q16 compared to $158 million in 1Q15.
Zetia and Vytorin: cardiovascular blockbusters
Zetia and Vytorin are Merck's blockbuster cardiovascular drugs. Both of these drugs are used to lower LDL cholesterol levels in the blood.
Revenues for Zetia increased in 1Q16, but the increase was offset by declining revenues for Vytorin. The combined revenues for these two drugs reported no change at $889 million in 1Q16, compared to $887 million in 1Q15. Worldwide sales were affected due to the loss of exclusivity for Vytorin in the United States and Zetia in Canada.
Competitors for Zetia include Niaspan from AbbVie (ABBV) and Lipitor from Pfizer (PFE).
To avoid risk, you can consider ETFs such as the iShares Global Healthcare ETF (IXJ), which holds ~3.8% of its total assets in Merck.
Next, let's see what's driving Merck's animal health segment.