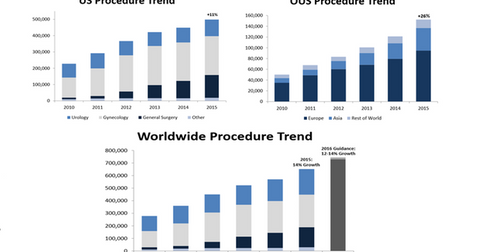 How Is Procedure Growth Driving Intuitive Surgical's Revenue?
By Sarah Collins

Updated
Overview
Intuitive Surgical (ISRG) registered revenue of around $595 million, 25% of which represented new system sales, in 1Q16. The remaining 75% of revenue was generated through consumables sales and service contracts, which were primarily driven by procedure growth.
The company's da Vinci surgical system is used to perform a wide range of surgical procedures across various medical specialties, including general surgery, cardiothoracic, gynecologic, urologic, and head and neck injuries and medical conditions.
Other major medical device companies include Medtronic (MDT), Stryker (SYK), and Johnson & Johnson (JNJ). Investors can consider the First Trust Health Care AlphaDEX ETF (FXH) for exposure to ISRG. It makes up ~2.3% of FXH's holdings.
Article continues below advertisement
Procedure growth trends
The number of procedures performed using the da Vinci surgical system in 1Q16 rose by around 17% on a YoY (year-over-year) basis. This growth was primarily driven by general surgery procedures in the United States and by urologic procedures globally.
General surgery growth in the United States has been driven by a rise in hernia procedures, in line with the ISRG's expectation that hernia treatment will be the next major surgery application of its da Vinci surgical system. For 2016, Intuitive Surgical expects to register procedure growth in the range of 9%–12%.
Around 3 million procedures have been done using da Vinci surgical systems to date. 652,000 procedures were carried out in 2015. However, as per Intuitive Surgical, the system's market potential stands at 4 million procedures annually. There are many potential specialty areas that the company can explore for expansion and growth.
Historically, lower procedure volumes are witnessed in the first and third fiscal quarters of the year. Benign condition treatment procedures are found to be higher in the fourth quarter and lower in the first quarter of the year.
Key drivers of procedure growth
General surgery procedures hernia repair and colorectal surgery have been major procedure growth drivers in recent years. Hernia repairs, both inguinal and ventral, have contributed majorly to procedure growth in 2015.
As described in the company's annual report, "Hernia occurs when an organ or fatty tissue squeezes through a weak spot in a surrounding muscle or connective fascia tissue. The ventral, or abdominal Hernia, may occur through a scar after surgery in the abdomen. Inguinal Hernia is a bulge in the groin and is more common in men."
Colorectal surgery is another procedure growth driver that "typically involves benign or cancerous conditions of the lower digestive system, rectum or colon in particular." In 2015, Intuitive Surgical reported a rise of ~31% in US general surgery procedures.
International urological procedures, particularly in Europe and Asia, are helping to drive procedure growth and, in turn, the ISRG's revenue. The number of international surgeries increased by ~26% in 2015.