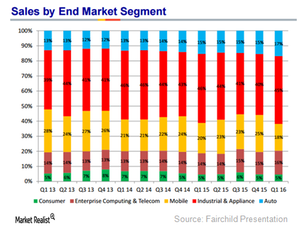 Why Power Semiconductor Companies Had a Slow Start to 2016
By Puja Tayal

May. 19 2016, Published 3:29 p.m. ET
Power semiconductor companies hit by a slowdown in PCs and smartphones
The March 2016 earnings season was seasonally slow for the power semiconductor market. The largest pending merger in the power semiconductor market is between Fairchild Semiconductor International (FCS) and ON Semiconductor (ON). If the merger is finalized, this will probably be the last time the two companies report separate earnings.
The merger will likely be completed in fiscal 2Q16, and earnings may reflect the combined company that quarter. Let's look now at the performances of both of these companies and the possible outcome of an ON-FCS merger.
Both FCS and ON reported revenue declines in fiscal 1Q16. Growth in the automotive and industrial segment was offset by a higher-than-expected slowdown in the PC (personal computer) and smartphone markets.
FCS was hit by Apple's (AAPL) inventory correction of iPhones for the short term. This affected revenues of other suppliers such as Cirrus Logic (CRUS) and Qorvo (QRVO).
Article continues below advertisement
Positive guidance for fiscal 2Q16
ON is optimistic about its June 2016 earnings. FCS didn't report any guidance due to its upcoming merger with ON.
ON-FCS merger at a glance
Fairchild Semiconductor (FCS) and ON Semiconductor (ON) have complementary products and huge exposure to the high-growth automotive and industrial sector. ON plans to fund the merger through debt, which has raised many analysts' eyebrows since the company already has a high debt level. Taking more debt for the acquisition would heavily leverage its balance sheet. A high leverage would be difficult to control in the slowing semiconductor market.
However, ON is optimistic that it will outperform the semiconductor industry, driven by strong growth in the automotive, industrial, and smartphone end markets. The company expects the FCS merger to bring in cost synergies and increase exposure in these three growth markets, thus driving up revenues and profits.
You can gain exposure to large-cap growth stocks by investing in the iShares Russell 1000 Growth ETF (IWF). It has 5.2% exposure in AAPL and 0.03% in ON.
In the next part of our series, we'll take a look at the revenues for Fairchild and ON and how they're directly proportional to smartphone and PC sales.