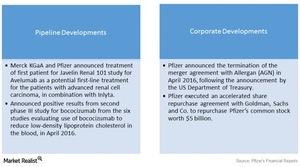 Pfizer's Pipeline and Corporate Developments in 2016
By Mike Benson

Updated
Other developments
Apart from product developments, Pfizer (PFE) has seen a few pipeline and corporate developments so far in 2016. We'll discuss these in detail below.
Article continues below advertisement
Pipeline developments
The recent pipeline developments reported include the following:
Merck KGaA (MRK) and Pfizer announced the initiation of five phase III trials for avelumab. These trials include Javelin Lung 100, Javelin Gastric 300, Javelin Ovarian 200, Javelin Bladder 100, and Javelin Gastric 100.
Merck KGaA and Pfizer announced treatment of the first patient with avelumab in combination with Inlyta under the Javelin Renal 101 study. This is a Phase III study that investigates avelumab as a potential first-line treatment for patients with advanced renal cell carcinoma, in combination with Inlyta, an oncology product from Pfizer. Further, the study is expected to have a sample size of 583 patients from nearly 170 countries worldwide.
In April 2016, Pfizer's (PFE) announced positive results from the second phase III study for bococizumab from the six studies evaluating the use of bococizumab to reduce low-density lipoprotein cholesterol in the blood.
Corporate developments
The recent corporate developments reported are as follows:
Pfizer announced the termination of the merger agreement with Allergan (AGN) in April 2016. The company paid $150 million to Allergan toward expenses for the transaction.
Pfizer executed an accelerated share repurchase agreement with Goldman Sachs to repurchase common stock of Pfizer worth $5 billion. The company has already paid $5 billion to Goldman Sachs and received nearly 136 million shares in March 2016. This was in line with Pfizer's announcement in its 4Q15 results.
To diversify the risk of investing in individuals pharmaceutical companies, you can consider the Vanguard Health Care ETF (VHT), which holds ~6.3% of its total assets in Pfizer, ~3.9% in Allergan (AGN), ~8.7% in Johnson & Johnson (JNJ), ~3.5% in Bristol-Myers Squibb (BMY), and ~4.6% in Merck and Company (MRK). You can also consider the iShares U.S. Healthcare ETF (IYH) or the Health Care Select Sector SPDR Fund (XLV).
Keep reading to learn about Pfizer's profitability and financial guidance.