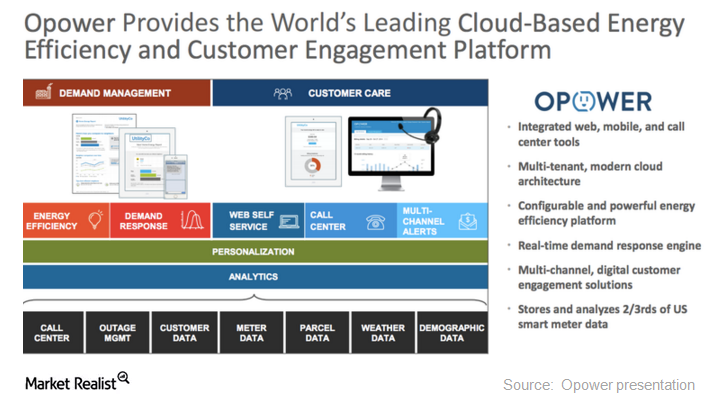 Opower Is Oracle's Latest Cloud Buyout: Will It Be of Benefit?
By Anne Shields

May. 17 2016, Published 1:39 p.m. ET
Oracle targets utilities with Opower acquisition
On May 2, 2016, Oracle (ORCL) announced the acquisition of Opower (OPWR), a cloud service software provider in the utility space. Opower provides client engagement and energy-efficient cloud services to electric, gas, and water utilities.
By using big data analytics, its platform goes through meter readings and helps companies keep a tab on costs, engage with customers, and meet regulatory requirements. Opower's customers include Pacific Gas and Electric Company, Exelon (EXC), Pepco Holdings (POM), and National Grid.
Article continues below advertisement
Oracle shells out $532 million to acquire Opower
Oracle has agreed to pay $10.30 a share in cash, which is approximately 30% higher than Opower's closing price of $7.90 on April 29, 2016. In total, Oracle will be paying $532 million for Opower.
How Opower will enhance Oracle's position
According to EY, the SMAC (social, mobile, analytics, and cloud) revolution has led to customers wanting to interact with companies through smartphone applications, text messages, and other channels. On Opower's acquisition, Gartner analyst Chet Geschickter suggested that although Oracle provides billings and customer information systems in the utility space, its technology is lagging behind.
You could consider investing in the SPDR S&P 500 ETF (SPY) to gain exposure to Oracle, which makes up 0.7% of SPY. Investors who would like application software exposure could also consider SPY. Application software makes up ~7% of SPY.