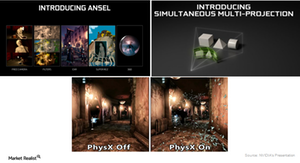 NVIDIA's Pascal Graphics Processing Units Support Virtual Reality
By Puja Tayal

May. 23 2016, Updated 7:06 a.m. ET
NVIDIA enhances virtual reality experience
In the previous part of the series, we saw that NVIDIA's (NVDA) Pascal and Advanced Micro Devices' (AMD) Polaris GPUs (graphics processing units) are likely to compete on pricing, as the former is likely to charge a higher price for its GPUs.
NVIDIA is targeting VR (virtual reality) with its Pascal-based GTX 1080 and 1070 GPUs. These GPUs will support several features NVIDIA introduced in its VRWorks software development kit to deliver the ultimate VR experience.
Article continues below advertisement
Simultaneous Multiprojection
Simultaneous multiprojection is a technology that enables the efficient projection of multiple viewpoints of the real world in one go. The technology renders the geometry of both eyes to the dimensions of the VR display output and discards pixels that would not be rendered in a VR scenario. The high speed of the GTX 1080 would make VR rendering much simpler for game developers.
PhysX technology
In VR games, the player can touch the surfaces and the surfaces will respond accordingly. NVIDIA assists game developers with this challenge with its PhysX technology. PhysX detects the collision of the hand controller with any virtual object and enables the game engine to create an accurate physical response similar to a real world response.
Just a visual will not deliver a real world experience. Sound is also required. NVIDIA's VRWorks Audio solves this problem by using OptiX ray tracing technology to simulate the movement of sound within an environment and modify it as per the size, shape, and material properties of the virtual world.
These technologies together enable developers to create a virtual world that is similar to the real world in terms of sight, sound, touch, and behavior.
Ansel
Gamers also like to take screenshots of games and share them. NVIDIA has created Ansel technology, which allows gamers to take screenshots of 3D images from any angle and apply filters, change effects, or increase resolution to enhance quality. The technology can also capture 360-degree screens for VR headsets such as Google (GOOG) Cardboard and desktop photospheres.
While NVIDIA is focusing on powerful GPUs for VR, AMD is focusing on GPUs for VR headsets such as Facebook's (FB) Oculus Rift and HTC's Vive. In the next few parts of the series, we'll look at the performances of NVIDA's various segments.
The iShares Core S&P 500 ETF (IVV) has exposure to large-capitalization stocks traded on the S&P 500 Index. It holds 1.5% in FB, 2.5% in GOOG, and 0.11% in NVDA.