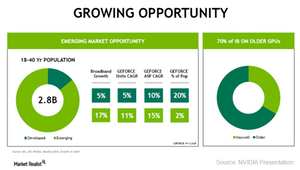 NVIDIA Sees Growth Opportunity for Gaming in Emerging Markets
By Puja Tayal

May. 11 2016, Updated 8:08 a.m. ET
Semiconductor companies adopt leverage strategy
In the previous two parts of this series, we saw that NVIDIA (NVDA) adopted a two-part business model where it increased its reach through platform and network strategy. It optimized costs through leverage and scale strategy. Qualcomm (QCOM) and Advanced Micro Devices (AMD) are also looking to adopt the leverage strategy. They are seeking adjacent markets where they can use their ARM and x86 chipsets, respectively.
NVIDIA is looking to grow in the gaming space by targeting a larger network in the emerging markets and addressing the need for advanced technologies.
Article continues below advertisement
Gaming segment's performance
Looking at the past five years' performance (fiscal 2012–2016), gaming revenue has grown at a CAGR (compounded annual growth rate) of 21%, ASP (average selling price) has grown by 11% and units have grown by 9%.
The company's gaming platforms units are mostly used in developed countries, with around 40% used in emerging countries (EEM), including China.
Growth opportunity in emerging markets
At its 2016 Investor Conference, NVIDIA's senior vice president of GeForce, Jeffrey Fisher, stated that the global population in the age group of 18–40 is the target group for gaming. He stated that a majority of this population lives in emerging markets where the company's penetration is almost negligible, at just 2%.
If we look at the growth rate of GeForce units, it is more than double in emerging markets than in developed markets. Even the ASP is growing faster in emerging markets. If we look at the market metrics, PC gaming needs access to broadband, which experiences three times the growth in emerging markets than in developed markets.
All this indicates that there is a huge growth potential for gaming in the emerging markets, especially China. This brings us to the key question—what is driving growth in these markets?
Key growth drivers in emerging markets
NVIDIA ranks first in various gaming communities and platforms such as iCafe—a place that gives youngsters access to high-performance PCs—as well as Steam, which is a worldwide community of gamers. However, the key growth driver in emerging markets is the growing popularity of eSports. A professional gaming team, ESL, has its tournaments standardized on GeForce GPUs (graphic processing units).
There is a larger audience that watches eSports online on destinations like Amazon's (AMZN) Twitch, Niconico, and YY. eSports is now going mainstream with media outlets like ESPN and Yahoo! Sports. This is creating a larger network for NVIDIA's GPUs.
In the next part of this series, we will look at the new growth avenues created by high-end gamers.