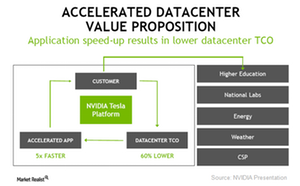 NVIDIA Makes a Mark in the Accelerated Data Center Space
By Puja Tayal

Updated
NVIDIA has high hopes with accelerated data center
So far, we have seen how NVIDIA (NVDA) implemented its business model in the gaming and professional visualization market and the growth opportunities it is eyeing in these two sectors.
Now, let's look at the third and the biggest market that NVIDIA is eyeing—the accelerated data center market. Here, the company leverages its Tesla platform.
At the 2016 Investor Conference, NVIDIA's vice president for enterprise business, Shankar Trivedi, explained the potential market for the company in the data center space with the help of statistics.
Trivedi stated that the entire data center market is around $50 billion and that NVIDIA focuses on the accelerated data center segment. This segment is further divided into three niche markets: HPC (high-performance computing), hyperscale cloud, and enterprise artificial intelligence.
Trivedi estimates that the first two markets represent a $30 billion opportunity. However, he did not give any estimates for the third market, as it is still emerging.
Article continues below advertisement
Role of NVIDIA GPUs in accelerated data center
The data center market is governed by Intel (INTC), and new players such as Qualcomm (QCOM) and IBM (IBM) are looking to penetrate this market. However, NVIDIA is targeting deep learning in this space, and it isn't competing with server processors or CPUs (central processing units).
NVIDIA builds Tesla GPUs (graphics processing units) that perform the task of multiple CPUs. Trivedi explained the power of Tesla in hyperscale computing with the Google Brain experiment. The experiment noted that it took 1,000 normal CPUs for the computer to identify all cats in YouTube videos.
This shows that deep learning requires an immense amount of computing power. A similar experiment was later conducted using 16 Tesla GPUs—its performance improved six-fold.
Cost benefits 
Not only was its performance enhanced, the data center cost also fell from $5 million for 1,000 normal CPUs to $200,000 for 16 Tesla GPUs. Moreover, the operating cost also decreased as the power consumption fell significantly.
Such a strong outcome explains the increasing adoption of Tesla in national laboratories and higher education institutes. The adoption of HPC is now growing into industries such as oil and gas, finance, and insurance, which is creating new opportunities for NVIDIA. Next, we will learn about NVIDIA's strategy to tap into these opportunities.
The VanEck Vectors Semiconductor ETF (SMH) has exposure to 26 semiconductor stocks, including ~3.9% exposure in NVDA, 13.6% in INTC, and ~7.6% in QCOM.