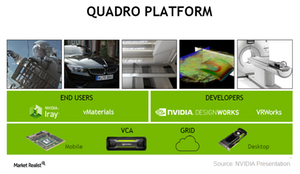 NVIDIA Introduces Virtual Reality to Designers, Artists, Scientists
By Puja Tayal

May. 16 2016, Updated 5:06 p.m. ET
NVIDIA in professional visualization
In the earlier parts of this series, we saw how NVIDIA (NVDA) uses its platform and network approach and leverage and scale approach in the gaming sector. The company is tapping the opportunity for advanced technology brought by the upgraded gaming consoles such as Sony's (SNE) Play Station 4, gaming content such as mods, and VR (virtual reality).
Now let's see how the company implements its business model in the professional visualization space.
NVIDIA leverages its Quadro platform in the professional visualization space and offers products for both end users and developers. The end users are designers, artists, and scientists in the manufacturing, media and entertainment, and scientific visualization sectors, respectively.
Article continues below advertisement
Iray
NVIDIA has developed Iray VR technology for physically based rendering. The technology enables the end users to make predictive designs that are not just visually correct, but physically correct from the perspective of heat, noise, and light.
Iray technology has a ray-tracing feature that shows how light rays come from every angle. It gives a real feel to the design and helps engineers identify problems with the design and correct them at the design stage itself, enabling the company to realize significant savings.
For instance, NVIDIA is using this technology to build its office. The designer can see the problem of heat and noise occurring due to the placement of windows. The ray-tracing feature makes the predictive design more effective.
Iray is being used by companies such as Siemens and Solidworks for predictive design. Companies such as Autodesk (ADSK) or Adobe (ADBE) act as network partners for Iray.
DesignWorks and VRWorks
This entire function in Iray runs on applications built by developers for physically based rendering. NVIDIA offers DesignWorks SDK (software development kits) that enables developers to ingest, process, stitch, and render videos. They can also mix elements of GameWorks, ComputeWorks, and DesignWorks to make their desired applications.
It also offers VRWorks SDK that enables developers to build these applications for Iray. Unlike game consoles that use 60 fps (frames per second), VR needs 90–120 fps and 4K resolution. VRWorks enables developers to create realistic scenes with 90 fps speed.
Iray plugins and vMaterials at a glance
There are times when users need the Iray technology immediately and cannot wait for developers such as Autodesk (ADSK) or Adobe (ADBE) to update their software. Hence, NVIDIA has introduced Iray plugins. It is also working on bringing VR closer to reality not only in terms of appearance but in properties as well, with its vMaterials. We will learn more about this in the next part of this series.
The iShares Russell 1000 Growth ETF (IWF) has holdings in large-cap growth stocks across various sectors. It has 0.10% exposure in ADSK and 0.45% in ADBE.