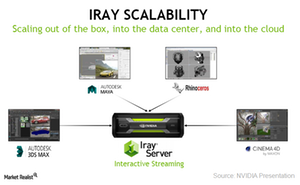 NVIDIA Brings Virtual Reality to Materials
By Puja Tayal

Updated
vMaterials
In the previous part of this series, we saw that NVIDIA (NVDA) has brought VR (virtual reality) to professionals. Its Iray technology makes predictive designs more effective, not only aesthetically but physically as well. Advancing on these lines, the company is bringing physically based rendering to materials such as gold. NVIDIA's vMaterials technology not only makes the material look like real, but it also makes it behave like the real item.
NVIDIA's MDL (Material Definition Language) has started by offering 600 free materials that users can put into their applications. NVIDIA is making vMaterials available through its network that includes Adobe (ADBE), OTOY, and V-RAY.
Article continues below advertisement
Scaling VR though Iray plugins
According to its business model, NVIDIA has leveraged the Quadro platform for all of its workstation needs. The company performs its scaling process through Iray plugins. NVIDIA is working with OEMs (original equipment manufacturers) to scale Iray to the data center and the cloud. This allows platforms connected to these servers to utilize the physically based rendering technology.
NVIDIA is looking to roll out workstations and platforms that are Iray-ready. The combination of an Iray, an 8 GPU, 4 GPU, Iray-certified platform can give all designers in an office access to GPU rendering.
Augmented reality
Many analysts believe that AR (augmented reality) is an even bigger market than VR. Digi-Capital forecasts VR revenue to reach $30 billion by 2020 and AR revenue to reach $120 billion by 2020.
NVIDIA is working with various companies in different sectors such as automotive, manufacturing, and medical to bring AR benefits in their business. It is working with Audi, General Motors (GM), and Ford (F) to create a VR application where the consumer can design a car by changing its wheels, paint, or seat leather. NVIDIA is also working with European (IEV) furniture manufacturer IKEA to build a virtual reality application that allows the user to design their own rooms and homes.
Application of AR
At its 2016 Investor Conference, NVIDIA's vice president for professional visualization, Bob Pette, offered a few more examples where VR and AR can be used aside from manufacturing.
For instance, Boeing can use VR application to train people in 38 different countries using its planes on a new part it has added.
Similarly, doctors are trained with virtual cadavers. The virtual body part reacts the same way as the real body part.
AR can also be used in surgery where doctors can see what a normal body part looks like and compare it with that of the patient.