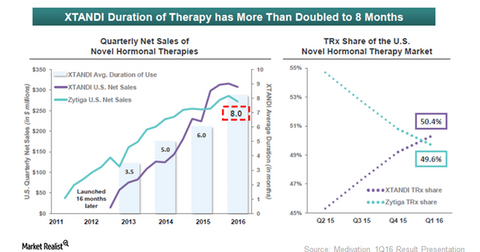 Could Medivation's Xtandi Become a Major Urology Drug?
By Jillian Dabney

Updated
Xtandi as a preferred urology drug
Although Medivation's (MDVN) Xtandi is a leader in the oncology space, it has significant opportunity in the urology space as well. Urology constitutes ~20% of Xtandi's total business, yet "80% of prostate cancer drug prescribing urologists have not yet written a prescription for the drug."
Xtandi is the leading novel hormonal therapy (or NHT) in the United States, where the NHT market comprises patients treated with Xtandi and Johnson & Johnson's (JNJ) Zytiga.
For the first time, the drug's US sales surpassed Zytiga in the first quarter of 2016. Similarly, its average duration of use has been rising consistently. As per IMS data, in terms of prescriptions, the drug has captured 50.4% of the total NHT market in 1Q16.
Article continues below advertisement
Continued prescription growth in the urology space
Urology prescriptions for the drug in 1Q16 grew 68% annually. In 1Q16, total and new prescriptions in the urology space rose 14% and 12%, respectively. The two major reasons for slow urology adoption are habit and general lack of awareness, according to the company.
TERRAIN/STRIVE data will offer a label amendment, which should lead to better adoption among urologists. The data compares the drug with bicalutamide.
Why is Xtandi preferred over Zytiga?
Efficacy and ease of use are the main reasons for Xtandi's preference over Zytiga. 65% of oncologists and 77% of urologists chose Xtandi as their preferred NHT product.
To get exposure to Medivation and control company-specific risk, you can choose the Vanguard Growth ETF (VUG). Medivation accounts for 0.1% of the fund's total holdings. Gilead Sciences (GILD) and Amgen (AMGN) constitute 1.4% and 1.3% of the fund's total holdings.