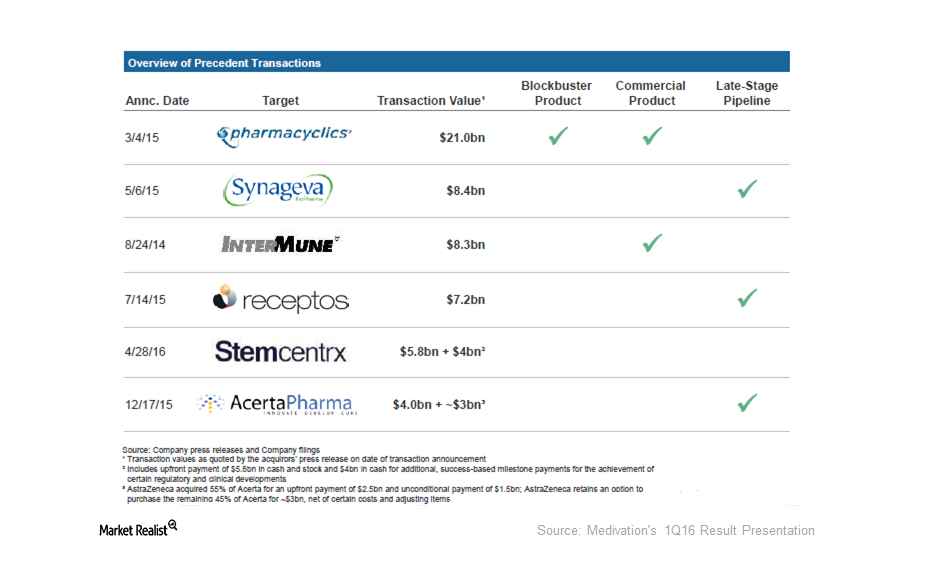 Medivation Is for Sale: How Much Should It Get?
Medivation for sale
Medivation (MDVN) expects its non-generally accepted accounting principles revenue to cross $2.5 billion by fiscal 2020 from $695 million in fiscal 2015. This would reflect an ~29% compound annual growth rate over the next five years.
Recently, Medivation rejected Sanofi's (SNY) acquisition offer. The proposed price was 21% lower than Medivation's 52-week trading high. Read Why Did Medivation's Share Price Increase so Much after Earnings? and Is Sanofi Trying to Acquire Medivation? for details on the acquisition.
Article continues below advertisement
How much should Medivation get?
The above chart shows recent acquisitions in the oncology space. Medivation thinks that Pharmacyclics is comparable in a partial sense. AbbVie (ABBV) valued Pharmacyclics at $21 billion. However, Pharmacyclics didn't have any late-stage pipeline. Considering this, it seems that Medivation is expecting a price higher than what Pharmacyclics received.
In comparison to Pharmacyclics, Medivation has Xtandi as a major blockbuster oncology drug. It has Talazoparib and Pidilizumab as late-stage oncology pipeline molecules. For details on the leading drug, read Medivation: Xtandi Global Sales Rose 53% in 1Q16.
Medivation thinks that Talazoparib will be a bigger success than Xtandi.
How's Talazoparib different than other PARP inhibitors?
Five PARP (poly ADP-ribose polymerase) inhibitors are being developed in the late-stage by different companies. The two primary pathways that cancer cells can be killed are:
inhibiting PARP enzymes
PARP trapping
The efficiency of Talazoparib, which has a PARP trapping ability, is evident in the above graph. It shows how it's better compared to other PARP inhibitors such as AstraZeneca's (AZN) Olaparib and AbbVie's (ABBV) Velaparib. Its magnitude to kill cancer cells is better than other PARP inhibiting drugs.
Considering the prospects for the pipeline, Medivation should fetch more than what Sanofi offered. It will probably get more than what Pharmacyclics received. Since Sanofi might try for a hostile takeover, Medivation is exploring a sale opportunity. It's thought that Pfizer (PFE) and Amgen (AMGN) are in line for a steal.
To get exposure to Medivation and control excessive company-specific risks, investors can choose to invest in the First Trust NYSE Arca Biotechnology Index Fund (FBT). Medivation accounts for 4.3% of fund's total holdings.