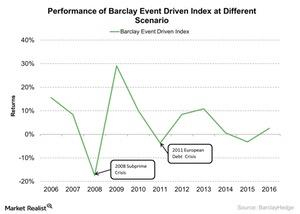 How the Event Driven Index Provided Returns in a Flat Market
By Sarah Sands

Nov. 20 2020, Updated 3:53 p.m. ET
Event-driven index
The Barclay Event Driven Index outperformed other indexes in April 2016, providing a return of 2.3%. Year-to-date (or YTD), the index had returned 2.6% as of April 30, 2016. From 2011 and 2015, the Barclay Event Driven Index provided positive returns, falling 3.2% only in 2015.
This event-driven index's performance mainly depends on events related to interest rates decisions, political changes, crude oil (USO) (BNO) price movements, mergers and acquisitions, strategic restructuring, split-offs, bankruptcy, and other major events affecting investor sentiment in the Market.
Article continues below advertisement
What are event-driven strategies?
Event-driven strategy focuses on creating opportunities ahead of important events that could affect investor sentiment. Normally, volatility is high in the Market (IWM) (IWF) before such events.
Volatility is created as a result of different sentiments guiding asset prices. Fund managers use different programmed arbitrage strategies to take advantage of this volatility and generate returns.
An example of an event-driven strategy tied to the Brexit
Major events such as the potential Federal Reserve rate hike in June 2016, the potential exit of Britain (EWU) from the European Union (FEZ) (HEDJ), and the US presidential election are being tracked by fund managers. As the events draw nearer, volatility is rising in the Market.
Depending on whether Britain exits the European Union after the referendum on June 23, 2016, we may see some short-covering on the British pound. This could strengthen the pound's movement, according to a statement provided by Jared Dillian, an investment strategist at Mauldin Economics.
Dillian also mentioned that whatever the likely result is, he'll take a long position on the pound a week before the referendum. In this way, event-driven strategies work and provide good returns.
Some funds focus on macroeconomic event-driven strategies, while others focus on corporate events. The BlackRock Event Driven Equity Fund (BILPX) mainly focuses on equities that are undergoing corporate events such as mergers and acquisitions, strategic restructuring, and spin-offs. YTD as of April 30, 2016, BILPX had returned 0.82%.
The Fidelity Event Driven Opportunities Fund (FARNX) mainly focuses on companies that are undergoing changes in beneficial ownership, changes in management structure, and changes in capital structure. YTD as of April 30, 2016, FARNX had returned 0.36%.
In the next part, we'll analyze the performance of the European equities index in April 2016.