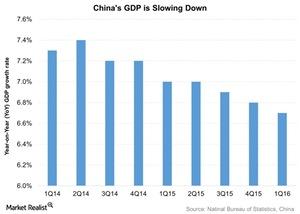 Why Are Mark Yusko and Mark Mobius Bullish on China?
By Lynn Noah

Nov. 20 2020, Updated 1:03 p.m. ET
Mark Yusko
Mark Yusko is the CEO and CIO of Morgan Creek Capital Management. He has been bullish on China for a long time. He thinks that although China's GDP (gross domestic product) declined, it's still at a much higher level than other countries. Also, a higher GDP doesn't translate into higher stock prices.
Article continues below advertisement
China's transition
China's manufacturing sector is impacted by the global slowdown. As a result, China (ASHR) (FXI) is transitioning itself from an export and investment-oriented economy into a consumption-oriented economy. China's large population can drive consumption growth. Sectors such as healthcare, alternative energy, e-commerce, and retail are going to do well once the transition happens.
Yusko thinks that just like TJX Companies (TJ) and Ross Stores (ROST) saw enormous growth, Vipshop Holdings Limited (VIPS) will likely see phenomenal growth in the long run. According to Yusko, investors should invest in China with a long-term horizon.
Mark Mobius is also bullish on China
Mark Mobius is the executive chairman of Templeton Emerging Markets Group. He's also bullish on China. He thinks that hedge fund managers such as Kyle Bass, George Soros, Stanley Druckenmiller, and David Tepper—who have bearish views on China and think that hard landing in unavoidable in China—are correct if they just go by numbers. However, China has all of the resources to prevent itself from collapsing at all costs. Read Mark Mobius Thinks There Are Tremendous Opportunities in China to learn more.
He said in an interview with MarketWatch that "China is a huge, growing economy. Even if it grows at 5%, it's still incredible." He thinks that although China's demand for raw materials could decline, it will still be substantial. Now, Mobius is focusing on oil companies—mainly refining and downstream companies. Earlier, he focused on e-commerce (BABA) (BIDU).
The Chinese government released a five-year plan in March that highlighted better management, resource utilization, and boosting the service sector's contribution to the GDP. This would help China reorganize its economic structure from manufacturing and exports to services and domestic consumption.
Next, we'll look at China's industrial profits in April.