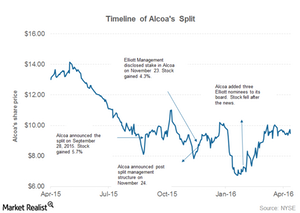 What Made Alumina Limited Block Alcoa's Split?
By Mohit Oberoi, CFA

May. 30 2016, Published 3:36 p.m. ET
Alcoa's split
Last year, Alcoa (AA) announced that it would split into two independent companies. The transaction is expected to finish in the second half of 2016. Alcoa, which traces its roots back to 1888, has been a pioneer in aluminum production technology. Aluminum production has been Alcoa's primary business for years.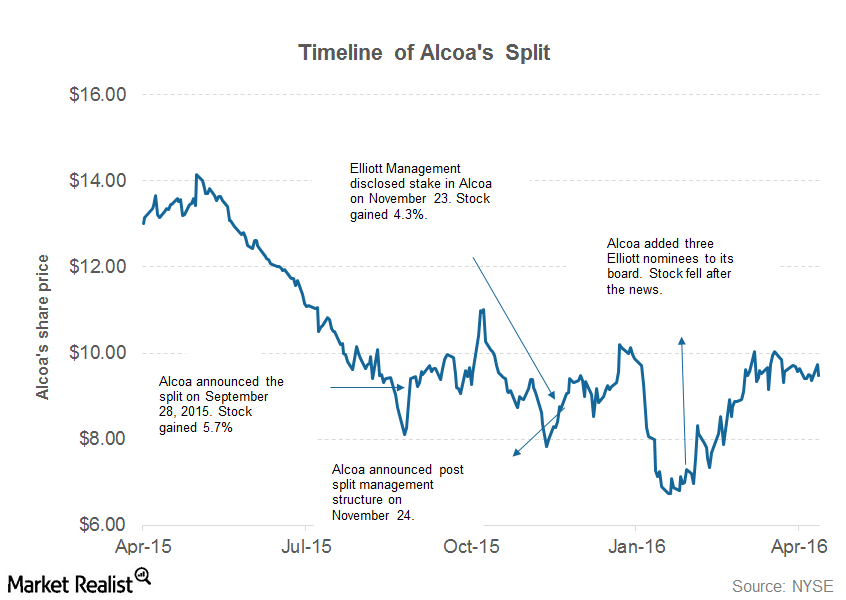 The graph above shows the timeline of Alcoa's split. Markets (DIA), it seems, have already started factoring in the split. Alcoa's price action this year has diverged from other commodity producers—like Century Aluminum (CENX), Rio Tinto (RIO), and Norsk Hydro (NHYDY). Alcoa's correlation with aluminum prices has also fallen as markets have started to factor in Alcoa's value-add business along with the commodity business. You can read our series How Do Markets See Alcoa before Its Impending Split? to explore this in detail.
Article continues below advertisement
Series overview
The basic premise behind Alcoa's split is creating value as a result of the two assets' individual price discovery. To be sure, Alcoa's commodity and value-add business present totally different investment propositions. The consensus seems to be that we could see the sum-of-parts valuation exceed Alcoa's current enterprise value.
But there's a minority view in the market that Alcoa's split could destruct shareholder value. Prudent investing warrants looking at both sides of the coin. The argument against Alcoa's split has again come under the spotlight with Alcoa's joint venture partner, Alumina Limited, reportedly blocking the split, according to Bloomberg.
In this series, we'll look at the different challenges that Alcoa could face after the split. Let's begin by looking at the key issues Alcoa needs to address before the split.