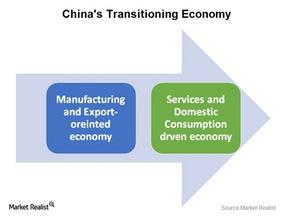 Macro Factors to Look for When Investing in China
By Lynn Noah

Nov. 20 2020, Updated 12:26 p.m. ET
China requires long-term investment
China has a lot of infrastructure investment. This will allow it to grow in the long run. The country is shifting its focus from a manufacturing-based economy to a consumer-based economy. With the change of focus, China's consumption sector is expected to do well in the long run. So, investors are advised to have a long-term perspective while investing in China.
Article continues below advertisement
Sectoral approach
Investors can follow the sectoral approach while investing. Sectors such as retail (VIPS), e-commerce (NTES), and healthcare (CBPO) are expected do well as China transitions into a consumption-driven economy. Funds (NGCAX) (MCHI) that have high exposure to the healthcare sector can be considered. China's healthcare sector continues to grow at an astonishing rate. It remains among the world's most attractive markets for pharmaceutical companies.
Currently, it's difficult to say how long it will take for the Chinese economy to revive. So, investors should focus on defensive sectors like utilities and healthcare. They tend to outperform when the markets are gloomy. However, investors should also note that the utilities sector tends to underperform when markets are rising.
The world is watching
We think that 2016 will be challenging for China's economy. China is still very much a closed economy. However, the time has come for the Chinese government and central bank to open up and become more transparent. The world is watching China closely. It needs to take aggressive measures rather than baby steps to put the economy back on the growth track. It will take time to tell how well these measures help the slowing economy.
For more updates and analysis on mutual funds, visit Market Realist's Mutual Funds page.