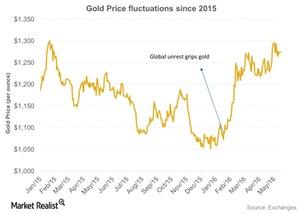 What Lured George Soros to Barrick Gold?
By Meera Shawn

Updated
Slashing stocks
According to a government filing on Monday, May 16, the value of Soros Fund Management's publicly disclosed holdings dropped by 37% to $3.5 billion as of the end of 1Q16. Soros slashed the fund's stake in some of the world's biggest technology stocks. The prices of these stocks are tied to the broader economic cycle.
Soros had pointed out that the immense credit in the economy seems to be a situation that may resemble the 2008 scenario. The Chinese market turbulence may likely have a long-lasting effect on the other economies of the world and may worsen the deflationary environment. The demand for gold and other precious metals is closely tied to the health of the Chinese and other Asian economies, which are big markets for gold. As a result, Soros's increased exposure to gold in the first quarter may come as a surprise.
Article continues below advertisement
1.7% stake in Barrick Gold
Gold, which is famously known for its safe haven appeal, is bound to rise during such global tumult. Soros acquired 1.7% of Barrick Gold (ABX), which is Barrick's biggest US-listed holding. Soros also disclosed owning call options on 1.1 million shares in the SPDR Gold Trust (GLD). GLD is an ETF that closely tracks gold prices.
The Soros fund, which is currently structured as a privately owned family office, bought 19.4 million shares in Barrick Gold, having previously dissolved its stake in the world's top gold mining company by production in 3Q15. Barrick is up 39% since March 31. The Soros fund may have its eye on haven bids not only in precious metals but also in mining companies.