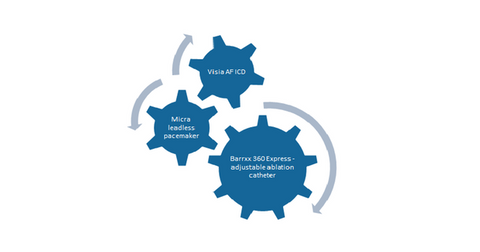 A Look at Medtronic's Recent Product Launches
By Sarah Collins

May. 31 2016, Published 3:15 p.m. ET
Micra leadless pacemaker
On April 6, 2016, Medtronic (MDT) received FDA (U.S. Food and Drug Administration) approval for its Micra Transcatheter Pacing System. It's the first and smallest leadless pacemaker in the market. The inch-long device is used to regulate heart rate and is implanted directly into the heart's right ventricle. The device is expected to significantly boost Medtronic's Cardiac Rhythm Management segment revenues since implantation of the device is expected to be easier with lower complications, better recovery rates, and lower total cost.
St. Jude Medical's (STJ) Nanostim is a competing product that has received CE Marking in Europe and is expected to receive approval from the FDA in the second half of 2016.
Article continues below advertisement
Adjustable ablation catheter
In April 2016, Medtronic launched its Barxx 360 Express, an adjustable radiofrequency ablation balloon catheter, for the treatment of Barrett's esophagus in the United States. Barrett's esophagus is a serious complication of GERD (gastroesophageal reflux disease), a digestive disorder, and has a risk of developing cancer of the esophagus. The device is expected to reduce procedure time by 20% due to the custom fit feature of the device and ease of use. It's expected to be launched in Europe, Australia, and New Zealand by the end of 2016.
Implantable cardioverter defibrillators for the detection and treatment of atrial fibrillation
Medtronic's Visia AF (atrial fibrillation) ICD (implantable cardioverter defibrillator) was approved by the FDA in April 2016. The device will enable a better diagnosis of AF in patients and provide better treatment and monitoring of patients with recurrent AF. The device also has MRI (magnetic resonance imaging) compatible versions.
Boston Scientific (BSX) is Medtronic's major competitor in the ICD market. Johnson & Johnson (JNJ) is another major competitor in the medical device industry. Investors can consider the iShares S&P 500 Growth ETF (IVW) for diversified exposure to Medtronic. MDT accounts for about 0.7% of IVW's total holdings.
In the next part of this series, we'll look at Medtronic's initiative to advance its type 2 diabetes device business.