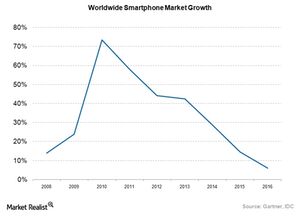 Memory Lane: The Smartphone Journey of Market Growth
By Puneet Sikka

May. 5 2016, Updated 4:30 p.m. ET
Ubiquitous smartphones
The line between a mobile phone and a smartphone has become blurred. Today's basic phones can also do the same computational work as smartphones. Users can play games, download apps, and watch video on a low-cost smartphone as well. According to Gartner, 70% of mobile phones were smartphones in 2015. Also, more than 90% of Facebook's (FB) MAU (monthly active users), and 80% of Twitter's (TWTR) MAU worldwide now access its apps from smartphones.
Article continues below advertisement
Although Nokia and BlackBerry (BBRY) were the leading smartphone players until 2010, things started to change when Apple (AAPL) introduced iPhone in 2007. Nokia and BlackBerry found support in emerging markets (EEM) where Apple was still considered a pricey product, while Apple became a major smartphone player in the US. The trend of selling of subsidized phones on US telecom providers' network also helped Apple sell iPhones at subsidized rates to US customers.
Signs of slowing down
The above chart shows the healthy growth rate that smartphone market has experienced over the years. This growth was between 29% and 73% between 2010 and 2014. However, this growth has plateaued lately. The smartphone market grew by only 14% in 2015 on a year-over-year basis, and IDC expects this growth to slow to 6% in 2016.
As the smartphone market saturates, technology companies are looking at the next growth area, which is expected to be the VR (virtual reality) market. Companies like Samsung, Facebook, Microsoft (MSFT), and Google are coming up with latest VR devices to woo their customers. Facebook's Oculus and Microsoft's Hololens have already started to penetrate, and VR could very well be the next big thing in mobile devices.
Now let's talk tablets.