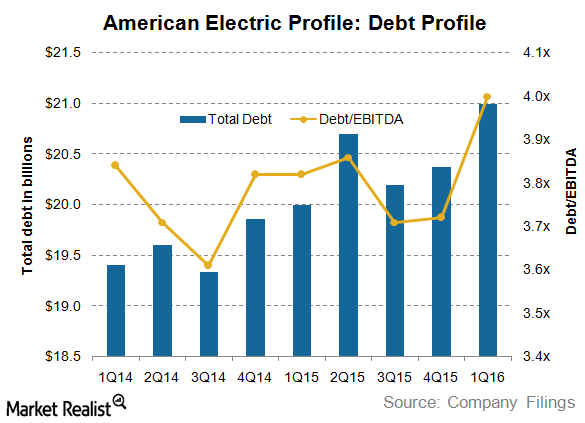 A Look at American Electric Power's Healthy Credit Profile
By Vineet Kulkarni

Dec. 4 2020, Updated 10:53 a.m. ET
American Electric Power's debt profile
American Electric Power (AEP) has an attractive debt profile, with the company's debt making up just 7% of its consolidated debt. The parent debt consists of two bonds with a combined value of $850 million, plus a guarantee to AEP Generation Resources' term loan of $500 million. This $1.4 billion loan represents only 7% of the total $21 billion debt. The lower parent-to-consolidated debt makes AEP's credit profile one of the stronger ones in the sector (XLU).
Article continues below advertisement
Leverage
On March 31, 2016, American Electric Power had a total debt of $21 billion, of which approximately $18 billion was long-term debt. While its debt-to-equity ratio was 1.1x, its debt-to-market-capitalization ratio was 0.6x. AEP's debt-to-EBITDA (earnings before interest, tax, depreciation, and amortization) ratio was 4x. A debt-to-EBITDA ratio shows how many years it will take a company to repay its debt using EBITDA. As utilities are asset-rich businesses that have heavy debt, leverage is an important metric for analyzing utilities. AEP's debt-to-EBITDA ratio is better than Duke Energy's (DUK) 5x and Exelon's (EXC) 4.7x. PG&E (PCG) has a ratio at 4.1x.
The debt-to-asset ratio represents the portion of a company's assets that are financed by debt. It assesses a company's financial risk. AEP has a debt-to-asset ratio of 0.3x. Duke Energy has a debt-to-asset ratio of 0.4x, and Exelon's is 0.3x.
Credit rating profile
American Electric Power's strong credit profile is reflected by its credit rating. Standard & Poor's has given AEP a "BBB" rating with a positive outlook. In comparison, Duke Energy has an "A-"rating and a negative outlook. Exelon also has a "BBB" credit rating from S&P, with a stable outlook.