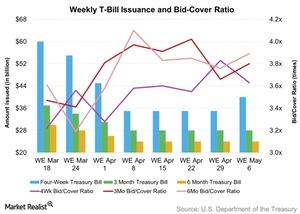 Last Week's 13-Week Treasury Bill Auction: Focus on Direct Bidders
By Lynn Noah

May. 9 2016, Published 4:20 p.m. ET
13-week Treasury bills auction
The US Treasury Department auctioned 13-week Treasury bills (or T-bills) worth $28 billion on May 2. The offer amount has been the same for the past four weeks.
Overall auction demand rose 3.8% in the week with the bid-to-cover ratio rising to 3.8x from 3.7x a week ago. The bid-to-cover ratio measures the overall demand for the auction.
Mutual funds (or MFs) like the MassMutual Select Strategic Bond Fund – Class A (MSBAX) and the MFS Government Securities Fund – Class A (MFGSX) have exposure to T-bills. Exchange-traded funds like the iShares Short Treasury Bond Fund (SHV) also help investors get exposure to three-month T-bills.
Article continues below advertisement
Yield analysis
T-bills don't pay a coupon. They're offered at a discount to face value and redeemable at par on maturity. The high discount rate for the May 2 auction came in at 0.22%, lower than 0.25% in the previous week.
Market demand fell
Market demand for 13-week Treasury bills fell to 32.4% from 34.3% in the previous week. The percentage of indirect bids fell to 28.2% of accepted bids from 32.9% a week ago. Indirect bids show demand from foreign governments.
Direct bids rose. These bids, which had formed 1.4% of accepted bids in the previous week, rose to 4.2%. Direct bidders include domestic money managers—for example, State Street Corporation (STT) and Invesco (IVZ).
Due to a fall in overall market demand, the share of primary dealer bids rose to 67.6% from 65.7% in the previous week. Primary dealers are a group of 22 broker-dealers authorized by the Fed. They're obligated to bid at US Treasury auctions and take up excess supply. They include firms like Goldman, Sachs and Co. (GS) and Citigroup Global Markets (C). A rise in the percentage of primary dealer bids shows weak fundamental market demand.