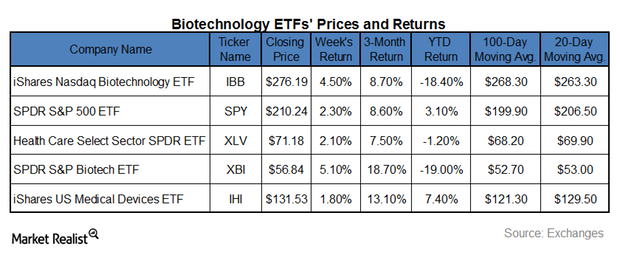 XBI Tops the Biotechnology ETFs in the Last Week of May
By Peter Neil

May. 31 2016, Published 9:21 a.m. ET
Reviewing biotech ETFs for the week
The week ending May 27, 2016, was a positive week for the biotech (biotechnology) and healthcare industries, as well as other sectors. In this article, we'll see how biotech ETFs are performing in comparison with the SPDR S&P 500 ETF (SPY), which tracks the S&P 500 Index. The index rose 2.3% during the week. The SPDR S&P Biotech ETF (XBI) was the top performer among biotech ETFs with a return of 5.1%, followed by the iShares NASDAQ Biotechnology ETF (IBB), which rose 4.5%. However, the Health Care Select Sector SPDR Fund (XLV) and the iShares U.S. Medical Devices ETF (IHI) underperformed SPY with returns of 2.1% and 1.9%, respectively.
Article continues below advertisement
20-day moving averages
On May 2, 2016, SPY's 20-day moving average was $207.40. By May 27, SPY's 20-day moving average had fallen to $206.50, indicating a falling trend. Over the same period, IBB's 20-day moving average fell from $279.20 and to $263.30. XLV's 20-day moving average fell from $70.40 to $69.90, and XBI's 20-day moving average fell from $56.10 to $53. However, IHI was exceptional and saw its 20-day moving average rise from $127.70 to $129.50. With the exception of IHI, most biotech ETFs saw their 20-day moving averages drop during the month of May.
Year-to-date comparisons
On a year-to-date basis, only SPY and IHI have risen, generating returns of 3.1% and 7.4%, respectively. IBB, XLV, and XBI have fallen by 18.4%, 1.2%, and 19%, respectively.
Fund flows
Fund flows for the period from May 20 to May 26 remained positive. SPY topped the list with net fund flows of $2,622.8 million. Among the biotech ETFs, XLV witnessed net inflows of $307.3 million and was followed by IBB with net inflows of $79 million, IHI with net inflows of $45.4 million, and XBI with net inflows of $9.8 million.
These funds invest in top biotech and healthcare companies like Amgen (AMGN), Johnson & Johnson (JNJ), and Gilead Sciences (GILD).