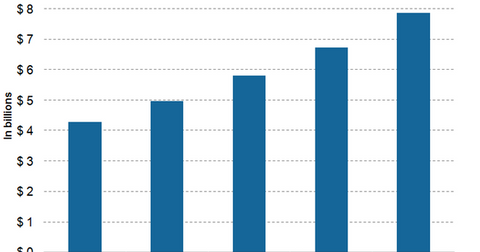 How Revlimid's Label Expansion Could Boost Celgene's 2016 Revenue
By Margaret Patrick

Updated
Label expansion
Celgene (CELG) expects that Revlimid will earn revenue of up to $6.7 billion in 2016. The company has raised its guidance for Revlimid by about $1 billion and has projected the drug's sales to reach $8 billion in 2017.
The launch of Revlimid as a first-line multiple myeloma (or MM) therapy is expected to prove to be a key growth driver of the drug's global sales in 2016. To know more about the label expansion of Revlimid in the NDMM (newly diagnosed multiple myeloma) segment and its subsequent global launches, please refer to What's Boosting Celgene's Valuations in 2016?
Wall Street analysts have projected Revlimid's sales to be about $6.7 billion in 2016, a YoY (year-over-year) rise of about 16.1%. Analysts' projections are in line with the 2016 guidance provided by Celgene for Revlimid and Pomalyst.
Article continues below advertisement
US market
In 1Q16, Revlimid witnessed strong patient uptake, a trend that's expected to continue throughout 2016. In addition to its growing number of new prescriptions and total prescriptions, Revlimid has also experienced a rise in the duration of its use. The drug is also being increasingly used as a maintenance therapy for MM patients in the United States.
Since its launch for NDMM, Revlimid's market share of the new US patient category has risen by about 9%. With Revlimid in its portfolio, Celgene is expected to pose tough competition to other hematology players such as AbbVie (ABBV), Amgen (AMGN), and Merck & Co. (MRK).
International markets
Based on one-year data for Revlimid following its launch for NDMM patients, Celgene is confident in the drug's success in international markets. The launch of the drug for NDMM has begun in Japan. Additionally, the company has witnessed a rise in the duration of its use in international markets.
These positive trends are expected to boost Celgene's share price as well as the share price of the iShares Russell 1000 Growth ETF (IWF). Celgene makes up about 0.8% of IWF's total portfolio holdings.