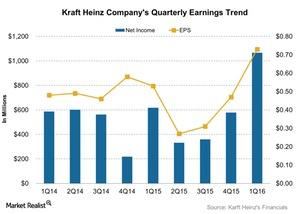 Kraft Heinz: Why Did Its 1Q16 Earnings Rise 38%?
Earnings beat estimates
Kraft Heinz (KHC) reported fiscal 1Q16 net earnings of $1.1 billion—compared to net earnings of $617 million in 1Q15. The adjusted EPS (earnings per share) for fiscal 1Q16 was $0.73—an increase of 38% compared to EPS of $0.53 in fiscal 1Q15. This rise in earnings for the quarter is due to 21% growth in the adjusted EBITDA (earnings before interest, tax, depreciation, and amortization).
The company showed mixed earnings growth in fiscal 2015. However, it delivered positive earnings growth in this quarter. The company fell behind the estimates in all three quarters of fiscal 2015 except for 4Q15. However, it surpassed the estimates of $0.61 by 20% in fiscal 1Q16. Analysts who follow the company expect its earnings to rise in all of the quarters in fiscal 2016. The earnings for fiscal 2016 are also projected to grow by 40%.
Article continues below advertisement
Kraft-Heinz merger
Kraft Heinz was formed when Kraft Foods was acquired by the Pittsburgh-based and privately owned H.J. Heinz Holding Corporation in October 2014. The company changed its name to Kraft Heinz after the merger. It became the third-largest food and beverage company in North America. It's the fifth-largest food and beverage company in the world. 3G Capital, a Brazilian private equity firm, completed the merger deal along with Warren Buffett's Berkshire Hathaway. Together, they invested $10 billion in the deal.
Peers' earnings
Kraft Heinz's rivals in the industry include Hormel Foods (HRL), Flowers Foods (FLO), and Cal-Maine Foods (CALM). They reported an EPS of $0.43, $0.15, and $1.33, respectively, in their last reported quarters. The First Trust NASDAQ-100 Ex-Technology Sector IndexSMFund (QQXT) invests 1.5% of its portfolio in Kraft Heinz.
What to look for in this series?
Continue reading this series to see how Kraft Heinz performed in fiscal 1Q16. What impacted its revenue in the quarter? We'll discuss the company's recent dividend and its 2016 outlook. We'll see how much Kraft Heinz's operating profit margins rose for the quarter. We'll look at how the stock and its peers are trading compared to their moving averages. We'll discuss what Wall Street analysts' recommendations are for the stock after the earnings release.