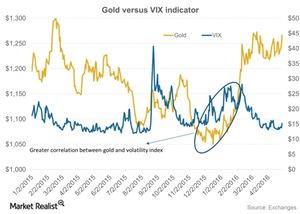 Why John Paulson Reduced His Gold Holdings
By Meera Shawn

Updated
John Paulson shuns gold
John Paulson, the hedge fund manager of Paulson & Co., slashed exposure to gold as other competitive hedge funds increased their exposure. According to US Securities and Exchange Commission filings from May 16, Paulson reduced his holdings in the SPDR Gold Trust (GLD) by 17% to 4.8 million shares. The fund held 4.8 million shares of GLD in 1Q16, which is down from 5.8 million shares in 4Q15.
The recent reduction in GLD was Paulson's third cut this year. His holding in GLD dropped from second largest to third largest. The number one and number two GLD owners are BlackRock and First Eagle Investment Management. Investors have closely followed Paulson's view on gold, as he earned roughly $5 billion on a gold bet in 2010. The precious metals have seen heavy gains in the current year. Gold managed to surge almost 20% while silver outperformed gold and rose approximately 24% year-to-date.
Article continues below advertisement
The Fed and gold
The precious metal rose due to the increased volatility in the equity markets and the negative rates in a few major economies. Gold touched a fresh high of $1,300 during the first week of May. The rise in the metal also helped funds like the SPDR S&P Metals and Mining ETF (XME) and the Global X Silver Miners Fund (SIL). These two funds have seen an increase of 46% and 103.2%, respectively.
Paulson's move suggests that he believes that gold prices have little room for further rises, as the Federal Reserve will likely increase interest rates soon, which will bring down gold prices. The allure of non-yield-bearing assets diminishes with increased interest offered on Treasuries.