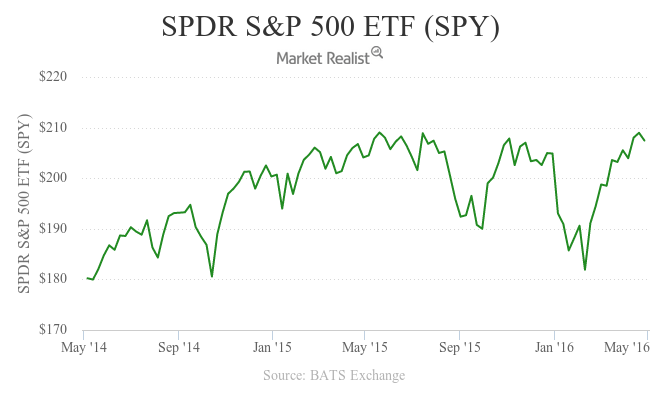 Jeffrey Gundlach's Views on Tesla, Apple, and Amazon
US stock market
Jeffrey Gundlach commented on the US stock market (SPY) (QQQ) at the Sohn Investment Conference held on May 4, 2016. He thinks that the US stock market is extremely overvalued versus other stocks markets. He said that "Earnings and profit margins are dropping and companies basically are borrowing money to pay dividends and to buy back shares" noted Gundlach. Going forward, he thinks that investors should expect "declines in the US stock market and since the correlations are so high this means that probably the junk bond market will go back down, too."
[marketrealist-chart id=1286236]
Article continues below advertisement
Tesla 
Gundlach sees immense potential in Tesla (TSLA). He thinks it's like a lottery ticket. However, given the fact that it's an expensive stock and it's volatile, investors should consider buying it when it's at $200.
Article continues below advertisement
Apple 
Gundlach sees Apple (AAPL) diminishing in importance going forward. It isn't expensive. The company is sitting on a lot of cash. He isn't sure what new products would drive growth for the company going forward, especially since Steve Jobs isn't there. Gundlach had his bearish bets on Apple (AAPL) back in 2012 and reaped returns out of it. However, he doesn't want to hold a position in the stock anymore.