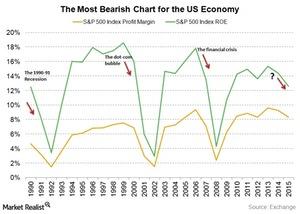 Why Gundlach Prefers Mortgages versus the High-Yield Market?
Jeffrey Gundlach sees limited upside in the US stock market
In his March 8 webcast, Gundlach surprised the Markets when he stated that "risk markets have a poor risk-reward setup. Using the stock market as a proxy, the S&P 500 (SPY) (SPXS) could have 2% upside and up to 20% downside for a 10:1 risk-reward ratio." He sees a huge divergence between high-yield bonds (HYG) (JNK) and the S&P 500. This is a bad sign for risk assets. He thinks that the S&P 500 profit margins have peaked. They could fall more.
Article continues below advertisement
Gundlach's love for mortgages
On May 2, Gundlach announced that his mutual funds attracted $1.4 billion worth of funds in April 2016. His firm's largest fund, the Total Return Bond Fund, received about $98 million net inflow in April. The fund has a net asset value of about $58.8 billion. It's primarily invested in mortgage-backed securities. Currently, Gundlach is advising investors to invest in mortgage-backed securities as a good alternative to get returns beyond the stock market.
What makes mortgages score over the high-yield market?
Gundlach prefers mortgages versus the high-yield bond market. He identifies inherent risks when investing in the high-yield market. He said the asset class is challenged with things like:
amount of leverage in the system
global slowdown
lower oil prices to some extent
In contrast, the mortgage (REM) market doesn't have those risks. While lower gasoline could result in more high-yield issuers going bankrupt, on the mortgage side, it would only help people pay their mortgages on time if not sooner.