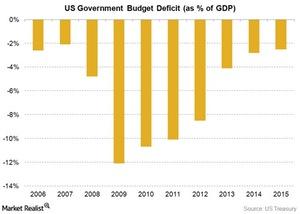 Jeffrey Gundlach Thinks that Donald Trump Would Win
By Surbhi Jain

Updated
Prepare for Trump to be president
At the recent Sohn Investment Conference, Jeffrey Gundlach of DoubleLine Capital expressed his belief that Donald Trump would win the presidency. He advised his audience to be "prepared for a Trump presidency."
As part of his election campaign, Donald Trump has been promising that he will build a wall, create jobs, and invest in infrastructure. This would definitely weigh down America's fiscal budget.
Article continues below advertisement
Donald Trump is very comfortable with debt
Jeffrey Gundlach also suggests that Trump, being extremely comfortable with debt, would lead the US into a large deficit. Trump's "Make America Great Again" slogan reminds Gundlach of Ronald Reagan's "Let's make America great again" slogan in 1988. Reagan was a debt-based economic guy and so is Trump.
According to Gundlach, Reagan and Trump's methods do seem to work at first. The challenge lies in the part of "whether the boost to the economy coming from infrastructure be able to offset the potential drag from shrinking global trade."
What Donald Trump's win mean for the defense sector
However, Trump has been clear and vocal about his thoughts on two things—building a wall and building the defense. Donald Trump's campaign promises to build a wall on the US-Mexico border and restrict remittances abroad. It goes without saying that under Trump the US could see a rising deficit. He intends to leave social security alone while cutting taxes and increasing government spending.
Gundlach thinks that Trump could win the election, provided his nomination is confirmed at the Republican convention. Trump's win would bode well for defense stocks and arm manufacturers, according to Gundlach—particularly those who are related to Mexico and China. The iShares U.S. Aerospace & Defense ETF (ITA), the PowerShares Aerospace & Defense Portfolio ETF (PPA), and the SPDR S&P Aerospace & Defense ETF (XAR) are invested in the industrial sector's aerospace and defense industry. Companies such as Boeing (BA), United Technologies (UTX), Raytheon (RTN), General Dynamics (GD), Northrop Grumman (NOC), and Lockheed Martin (LMT) are among of the top holdings of these funds.