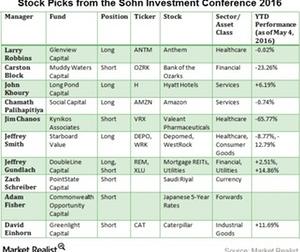 What Did Jeffrey Gundlach Discuss at the Sohn Investment Conference?
By Surbhi Jain

Nov. 22 2019, Updated 7:23 a.m. ET
The "Super Bowl" of investing conferences
The Wall Street Journal likes to call the Sohn Investment Conference the "Super Bowl" of investing conferences and rightly so! With some of the investment industry's biggest names sharing their thoughts and stock picks, the event is a treat for those looking for investing tips.
This year's conference, held at the Lincoln Center in New York, lived up to its expectations. Prominent speakers at the conference included Stanley Druckenmiller, David Einhorn, Jim Chanos, Larry Robbins, and Jeffrey Gundlach, among other big names. Here's a quick view of the notable stock picks and shorts of these investment managers.
In this series, we'll walk you through Jeffrey Gundlach's current views on the stock market (SPY) (QQQ) and the global economy. He shared his views during the conference, in an interview afterwards, and during his recent webcasts.
Article continues below advertisement
Jeffrey Gundlach at the Sohn Investment Conference
At the conference, Jeffrey Gundlach discussed more than just investments. He was vocal regarding his views about Donald Trump's presidential campaign. He talked about negative interest rates, deflation, and policy tools available to central bankers such as helicopter money.
In line with Market expectations, Gundlach also provided his view of the US capital market. He divulged his preference for mortgage REITs and advised investors to invest in them. He talked about how low volatility investing may not be as safe as investors assume and why shorting utilities makes sense.
He also provided a rough investment strategy. Following this income arbitrage strategy could help investors earn about 35% returns. Gundlach also briefly shared his views on popular stocks such Tesla (TSLA), Apple (AAPL), and Amazon (AMZN).