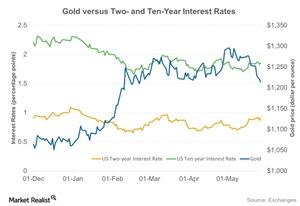 Janet Yellen Shares Views on Rate Hike, Gold Falls to 15-Week Low
Hawkish stance
On Friday, May 27, the Fed's chairwoman Janet Yellen gave her view on the upcoming rate hike, which has been gripping financial markets around the globe. The stance of her statements remained hawkish, suggesting an interest rate rise as soon as the coming month. Yellen mentioned that an improving US economy could most likely warrant a hike, as data from the past month showed a pick-up in growth during the first quarter of 2016.
With a higher interest rate, precious metals are regarded as store of value assets. Unlike Treasuries or equities, these metals provide no interest or dividend. Therefore, a higher rate of interest or greater dividends both could negatively impact these non-yield bearers. Gold and other precious metals plummeted on Friday. Gold, silver, platinum, and palladium fell by 0.54%, 0.42%, 1.4%, and 0.7%, respectively. Gold closed at $1,216.7 per ounce on Friday.
The above chart shows the relationship between gold and the interest rate over the past six months. The Federal Committee raised the rate of interest for the first time in a decade in December 2015. Hikes often negatively impact gold, which fell.
Article continues below advertisement
Miners plunge
The iShares Gold Trust ETF (IAU) and the iShares Silver Trust ETF (SLV), funds that take their price directions from precious metals, fell by 0.68% and 0.9%, respectively, on Friday.
Mining shares also plummeted due to the negative sentiment for gold and silver. The miners that lost the most were Kinross Gold. (KGC), Gold Fields (GFI), and New Gold (NGD). These three shares fell by 14.9%, 13.2%, and 11.5%, respectively. Combined, these three shares make up 9.1% of the fluctuations in the VanEck Gold Miners ETF (GDX).