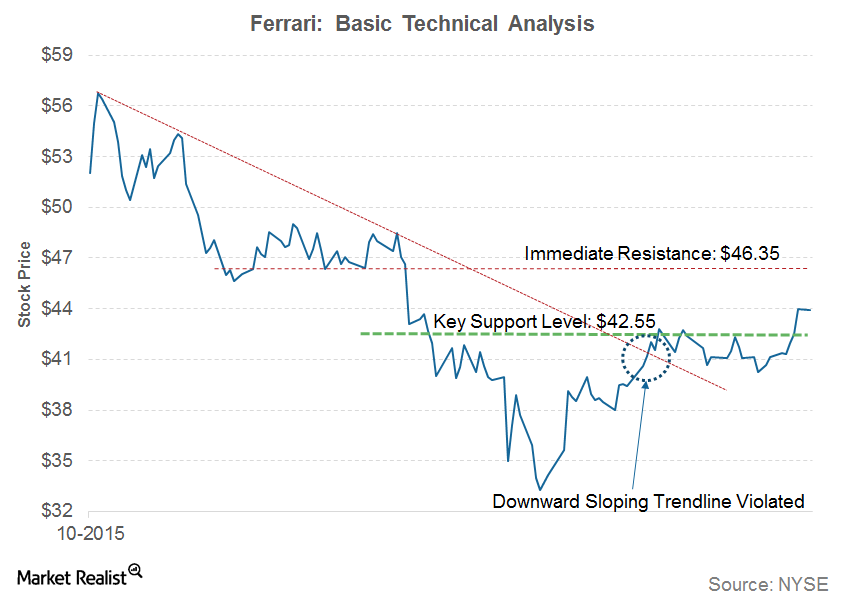 An Investor's Guide to Ferrari's Basic Technical Analysis
Technical review
Ferrari (RACE) was listed on the NYSE (New York Stock Exchange) last year with a much-anticipated IPO (initial public offering) that was oversubscribed. Prior to this, the company was a part of Fiat Chrysler Automobiles (FCAU).
Ferrari debuted on the NYSE on October 21, 2015, with a price of $52 per share. The next day, it posted a lifetime high of ~$58.20. Since then, the price has been in a primary downtrend and has been unable to move beyond a downward trendline. But after a violation of this major trendline resistance, the stock entered in an intermediate uptrend, as defined in the Dow Theory.
Paying attention to notable analysts' views can help investors. But it's also important to look at key technical support and resistance areas. These support and resistance areas may also act as ideal entry or exit price levels for investors.
Article continues below advertisement
Key technical level
As of May 3, 2016, Ferrari's stock price is $43.95. An immediate horizontal resistance level lies near $46.35. Only a breach of this resistance level should attract further buying to take prices toward the key horizontal resistance near $50.40.
However, looking at the weakness in the price momentum, we can expect it to test a key support near $42.55. A violation of this support may turn investors' sentiments negative. We should note that upward price movement may see resistance around the resistance levels, and downward price movements may hit a roadblock around support levels.
A breach of support or resistance may trigger a sharp price action. This means the price may witness a sharp rally if a key resistance area is violated, or a sharp fall if a key support level is violated. In both the cases, investors could initiate a favorable position or manage their existing position to benefit from these price levels.
Auto industry in 1Q16
US auto industry (IYK) companies such as General Motors (GM), Fiat Chrysler Automobiles (FACU), and Harley-Davidson (HOG) have announced their 1Q16 results during the past couple of weeks. While GM and FCAU were able to post strong results for 1Q16, Harley's earnings remained mixed, with falling margins and lower demand in North America.
Investors can read more about Ferrari's history and business in our overview series, "An Investor's Guide: Is Ferrari Racing on a Rough Road?"