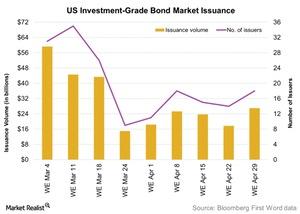 Did Investment-Grade Corporate Bond Issuance Rebound Last Week?
Deals and volumes of investment-grade corporate bonds
Investment-grade corporate bonds worth $27.0 billion were issued in the primary market in the week ending April 29, 2016. High-grade issuance had come in at $17.7 billion in the previous week. The number of issuers rose from 14 to 18 in the week ending April 29. Thus, April's total issuance stood at $135.2 billion. Investment-grade corporate bond yields have been rallying because of strong demand from foreign investors due to negative interest rates in Europe and Japan.
Last week, yields on investment-grade corporate bonds fell. As a result, the MFS Total Return Bond A Fund (MRBFX), the Janus Flexible Bond Fund Class A (JDFAX), and the Vanguard Intermediate-Term Corporate Bond Fund (VCIT) rose last week.
Article continues below advertisement
Major issuers
The large issuers of investment-grade bonds in the week ending April 29 included Sinopec Group Overseas Development, a debt-issuing subsidiary of China Petroleum & Chemical Corporation (SNP); Ford Motor Credit Company, a financial subsidiary of Ford Motor Company (F); Bank of New York Mellon Corporation (BK); and BP Capital Markets, a wholly owned indirect subsidiary of BP Group (BP).
Issuance by quality and maturity
Fixed-rate issues made up 100.0% of the total issuance. There were no floating-rate issuers last week.
Looking at the credit ratings of issues, BBB rated issuers were the most prolific. They made up 59.6%, or $16.1 billion, of total issuance. They were followed by A rated issuers, which formed 28.1% of the week's issuance. Meanwhile, AAA-rated papers formed 8.3% of the total issuance.
In terms of maturity, the largest chunk of issuance, making up 39.6% of all issues, was in the ten-year maturity category. This was followed by the five-year maturity category, which commanded 33.0% of the total issuance. The three-year maturity category made up 13.0% of the total issuance last week.
In terms of long-term maturity, the 30-year category made up 8.9% of the total issuance. Meanwhile, the over-30-year category and perpetuals have not seen any issuance for four consecutive weeks.
In the next part of this series, we'll highlight the major deals, including pricing, credit ratings, and yields.