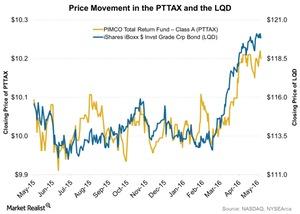 Where Did International Data Point in the Week Ended May 6?
By Lynn Noah

May. 11 2016, Published 3:03 p.m. ET
Investment-grade bond yields
Investment-grade bond yields fell and remained flat in the week ended May 6, 2016, after the European Commission (or EC) trimmed its inflation forecast for 2016.
The EC said that inflation would rise to only 0.2% this year, a fall from its 0.5% forecast in February, due to the global slowdown and plunging oil prices. China's foreign trade also slowed more than expected, raising fresh concerns regarding the country's economy.
Meanwhile, weak US jobs data indicated that hiring was slow in April due to weak economic growth, low productivity, and soft corporate earnings.
Thus, softer global and domestic data diminish the probability of a rate hike by the Federal Reserve in June's policy meeting.
Article continues below advertisement
US jobs data
Non-farm payrolls rose by 160,000 jobs in April, far below expectations of 202,000 jobs, and the smallest job gain in the last seven months. The March figure also faced a downward revision to 208,000.
Meanwhile, average hourly earnings rose 0.3% month-over-month in April. Year-over-year (or YoY), April's average hourly earnings rose 2.5% compared to 2.3% in March. The rise in average hourly earnings could help to boost inflation, which has been below the Fed's 2% target. Further, the unemployment rate remained steady at 5%.
Yield movement and investment impact
Corporate bond yields as measured by the BofA Merrill Lynch US Corporate Master Effective Yield were flat compared to the previous week, coming in at 3.1% on May 6, 2016.
The PIMCO Total Return Fund Class A (PTTAX) provides broad exposure to US investment-grade bonds. PTTAX invests in the investment-grade corporate bonds of companies such as Wells Fargo (WFC), Bank of America (BAC), and UBS Group (UBS). PTTAX had fallen 0.2% week-over-week as of May 6.
Similarly, the iShares iBoxx $ Investment Grade Corporate Bond ETF (LQD) provides exposure to US investment-grade corporate bonds. Debts issued by companies such as Verizon (VZ), Goldman Sachs (GS), and General Electric (GE) are among the major holdings of LQD. LQD was flat week-over-week as of May 6.
In this series, we'll look at investment-grade corporate debt issuances for the week ended May 6 in detail. But first, let's take a look at how lower yields in Europe may benefit US high-grade corporate bonds.