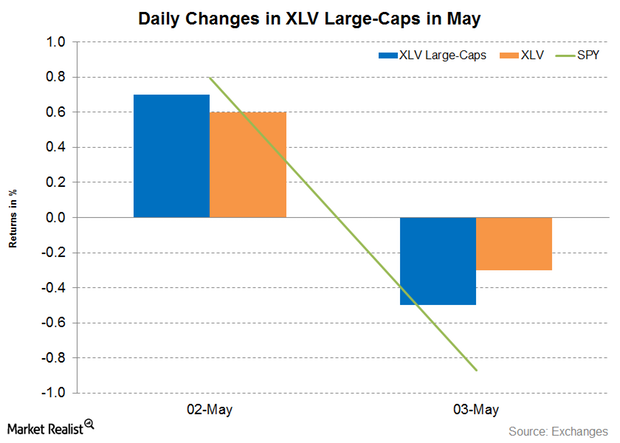 Inside XLV's Large Caps: Pfizer's 1Q16 Earnings
By Peter Neil

Dec. 4 2020, Updated 10:52 a.m. ET
XLV large-caps
The large-cap stocks of the Health Care SPDR ETF (XLV) shed 0.5% on May 3, outperforming the SPDR S&P 500 ETF (SPY). Among the 50 large-cap stocks, 14 stocks advanced, and 36 stocks declined from the previous day's close.
Notably, XLV's large caps account for 98.5% of the XLV's portfolio. YTD (year-to-date), the ETF's large caps have collectively declined by 1.8% as of May 3.
The above graph reflects the daily changes of XLV's large caps along with those of SPY and XLV. As of May 3, XLV's large caps have risen by 0.2% while SPY has dropped by 0.1%.
Article continues below advertisement
Pfizer's strong 1Q16 earnings
Pfizer (PFE) recently rose by 2.7% as a result of better-than-expected earnings. Pfizer recorded revenues of $13 billion for 1Q16, as compared to $10.9 billion in 1Q15, representing a growth of 20% on a YoY (year-over-year) basis. PFE's net income stood at $3 billion, or $0.49 per share, as compared to $2.4 billion, 0r $0.38 per share, in 1Q15, which represents a growth of 27%.
Pfizer generates its revenue from two streams: Innovative Products and Established Products. The Innovative Product sector, which is made up of the company's Global Innovative Pharmaceutical segment (GIP), Global Vaccines, Oncology, and the Consumer Healthcare segment (VOC), recorded revenues of ~$7 billion, reflecting a growth of 23% YoY. The Established Products segment recorded revenues of $5.98 billion, representing a growth of 17% YoY.
Revised revenue guidance
Pfizer also revised its revenue guidance for 2016. Pfizer now expects full-year revenues to be in the range of $51 billion–$53 billion. The previous range was $49 billion–$51 billion. Pfizer revised its adjusted diluted EPS (earnings per share) to be in the range of $2.38–$2.48. The previous guidance was $2.2–2.30.
Pfizer closed May 3 at $33.7 and was trading above its 20-day moving average. YTD, the stock is up by 4.4%. Pfizer is trading at 2016 forward price-to-earnings multiple of 14.4x. By comparison, Johnson & Johnson (JNJ), Merck (MRK), and Eli Lilly (LLY) are trading at a 2016 forward price-to-earnings multiples of ~17.1x, 14.9x, and 21.4x, respectively.
Pfizer's book value is at $10.5 per share. At its current price, the stock is trading at a price-to-book value of ~3.6x. Pfizer has a weight of 7.3% in XLV's portfolio.
Now let's look at XLV's mid caps.