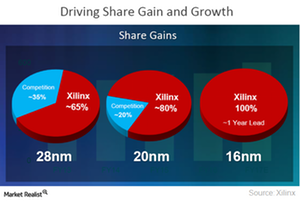 Inside Xilinx's Lead over Altera in the 20- and 16-Nanometer Markets
By Puja Tayal

Updated
Xilinx versus Intel
As Xilinx (XLNX) increases its share in the PLD (programmable logic device) market, a key factor that will determine the company's success in the long term is its competitive positioning compared to rival Altera, which has now become a part of the semiconductor giant Intel (INTC).
Article continues below advertisement
Xilinx leads Altera
At its Investor Day conference, Xilinx showed that it has a lead over Altera in the 20 nm (nanometer) and 16 nm technology. Pacific Crest analyst John Vinh noted that Altera is two years behind Xilinx in 20 nm and one year behind Xilinx in 16 nm products. This has given Xilinx the "first mover" advantage, and this is visible in its fiscal 2016 earnings.
Xilinx's fiscal 2016 revenue
In fiscal 2016, Xilinx earned ~$100 million in revenues from 20 nm products and now expects to ship products worth $30 million in fiscal 1Q17. For 16 nm, the company delivered all three UltraScale+ product families, shipped six new products to several customers, and secured several $100 million design wins in multiple markets.
Xilinx's fiscal 2017 guidance
In fiscal 2017, Xilinx aims to achieve a 65% share of the 28 nm market, 80% of 20 nm, and a 100% of 16 nm, as it has a one-year lead over Altera in 16 nm. Meanwhile, it plans to speed up production of the new design wins and to expand its 16 nm product portfolio. It's also looking to develop 7 nm product offerings.
However, MKM analyst Ian Ing stated that the company cannot accelerate the development of new products, because specialty FPGA (field programmable gate array) products have to undergo two cycles of design and development, a four- or five-year process.
While new products may give strong growth to patient investors, it could also drive away potential investors. Hence, Ian Ing believes that Xilinx could fund its long-term efforts better by integrating with Qualcomm (QCOM) or Broadcom (AVGO).
Notably, the iShares Russell 1000 ETF (IWB) has holdings in large-cap US equities across various sectors including technology. It has 0.73% exposure to INTC, 0.06% to XLNX, and 0.41% to QCOM.
Now let's take a closer look at Xilinx's move to 20 nm technology.