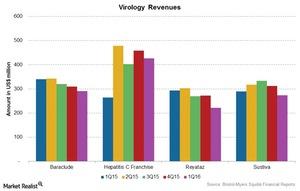 Inside Bristol-Myers Squibb's Virology Segment
By Mike Benson

Updated
BMY's Virology segment
Bristol-Myers Squibb's (BMY) Virology segment was the company's second-largest revenue contributor in 1Q16. The segment is made up of drugs for chronic virus diseases and infections including Hepatitis B, Hepatitis C, and HIV. The segment revenues increased by 2.0% to $1.21 billion during 1Q16, as compared to $1.19 billion in 1Q15, and contributed ~27.6% of the company's total revenues in 1Q16.
Article continues below advertisement
Hepatitis C franchise
Daklinza and Sunvepra, the two drugs launched post-August 2014, contributed over 35% of the total revenues for this segment in 1Q16. These drugs have had strong performances due to increased demand in Japan and European markets. Total revenues for hepatitis C franchise increased by over 60% to $427 million during 1Q16, as compared to $264 million in 1Q15.
In US markets, the company reported revenues of $259 million in 1Q16. The company received approval for its Daklinza drug on July 24, 2015. The FDA (US Food and Drug Administration) has approved Daklinza for use with sofosbuvir to treat Hepatitis C Genotype 3 infections, which is the most aggressive of the seven genotypes of Hepatitis C. Patients with Genotype 3 infections are more rapidly affected by fibrosis and cirrhosis.
Other drugs for Hepatitis C include Harvoni and Sovaldi, marketed by Gilead Science (GILD), Olysio by Johnson & Johnson (JNJ), and Viekira Pak by AbbVie (ABBV).
HIV and Hepatitis B franchises
The HIV franchise includes two drugs, Reyataz and Sustiva. During 1Q16, Sustiva revenues declined by ~6% due to the loss of exclusivity, while Reyataz revenues declined by 25% over 1Q15.
Meanwhile, Baraclude, an oral antiviral, reported a decline of ~14% during 1Q16 over 1Q15 due to the generic competition of entecavir tablets from Teva Pharmaceuticals (TEVA).
To divest risk, investors can also consider ETFs like the Health Care Select Sector SPDR ETF (XLV), which holds ~4.6% of its total assets in Bristol-Myers Squibb, or the iShares US Healthcare ETF (IYH), which holds ~4.1% of its total assets in Bristol-Myers Squibb.