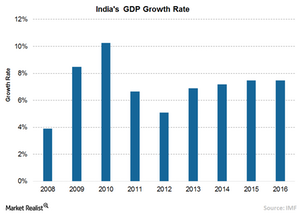 Why India Is a Jewel among the BRICs Right Now
By Terry Simpson

Updated
We favor India
India is a bright spot within the BRICs and stands out in a world where economic growth is sparse. In 2014 and 2015, the country expanded at 6.9 percent and 7.3 percent, respectively. According to the IMF, India's 2016 GDP is forecasted to grow at 7.5 percent.
Yet even with this rosy economic picture, India's market performance has waned since reaching a post crisis peak in January 2015, weighed down by a rising U.S. dollar and slow progress on fiscal reforms. Looking forward, we are encouraged that the Indian government has committed to keeping the fiscal deficit in check. Furthermore, the government is expected to spend 0.3 percent of GDP on public infrastructure that should support growth. As such, we're likely to see fiscal and monetary policy makers working in unison to spur growth. This, combined with a reasonable valuation for the S&P BSE Sensex Index, bodes well for Indian stocks into 2017.
Article continues below advertisement
Market Realist – The last BRIC standing
India has posted strong economic growth in recent years despite many global (ACWI)(IEFA) headwinds. Among major nations (IWD), India (INDY) reported the highest GDP growth rate of 7.5% in fiscal 2016. Buoyed by a good monsoon, increased consumer spending, and pay commission awards to public employees and defense personnel, the Indian economy is expected to post GDP growth of 7.7% in 2017.
The growth in 2017 is likely to be driven by higher consumption and expected to replace investment as the economic mainstay. The good monsoon may propel agricultural growth to around 3.5% this fiscal year and revive rural demand for the first time in three years.
The government has fixed the fiscal deficit target at 3.5% of GDP, which signals the government's intention to balance economic growth with macroeconomic stability. On the other hand, the government hasn't initiated many economic reforms—like GST, land, and labor reforms—that are necessary to boost economic growth.
Though the weaker global growth is likely to affect India's pace of recovery, higher domestic consumption (IYC) is expected to maintain growth momentum. Strong economic indicators make equities attractive at the current valuation. The S&P BSE Sensex is trading at a forward PE of 15.7x compared to its five-year average of around 15.9x. The PE ratio peaked to 19.1x in March 2015.