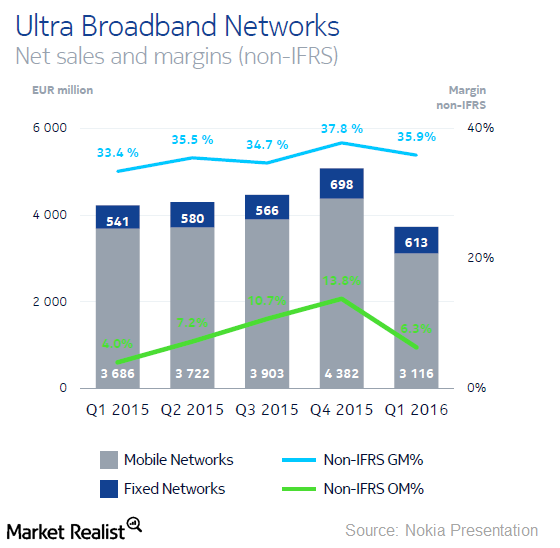 What Impacted Sales for Nokia's Mobile and Fixed Network Segment?
By Adam Rogers

May. 13 2016, Updated 9:08 a.m. ET
Market conditions remain a concern
Europe-based (EFA) Nokia's (NOK) Ultra Broadband Networks include its mobile and fixed business groups. The gross margin rose by 250 basis points in this segment. The operating margin rose to 6.3%. However, sales fell 12% YoY (year-over-year) in 1Q16. Fixed Networks' revenues grew by 13% YoY. Mobile Networks' revenues fell 15% YoY in 1Q16.
Although Nokia built a broader portfolio over the years, its wireless business remains a very large part of the firm's business. There have been concerns about Market conditions in the mobile sector—driven by a competitive pricing environment and the availability of fewer mega deals. Nokia also thinks that the competitive situation is worse compared to earlier quarters.
Nokia's CEO, Rajeev Suri, stated that "While we have the financial strength to be more aggressive in strengthening our top line, we remain firm in our belief that a strategy focused on a relentless pursuit of growth simply for the sake of growth is not the best way to create shareholder value."
Article continues below advertisement
Customers in a transition phase
Given the speed at which Nokia expanded its portfolio and agreed on transition plans with customers, a small number of customers took a pause in purchasing. There's a time lag for spending to shift from the old portfolio to the new.
Nokia accounts for 1% of the PowerShares BLDR's Europe 100 ADR Index Fund (ADRU). The other companies in ADRU include HSBC Holding (HSBC), Novartis (NVS), and Sanofi-Aventis (SNY).