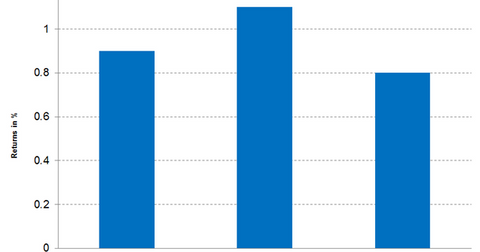 IBB's Large-Cap stocks: What Drove Regeneron's Positive Results?
By Peter Neil

Updated
Reviewing IBB's large-cap stocks
The large-cap stocks of the iShares Nasdaq Biotechnology ETF (IBB) rose by 0.9%, outperforming the SPDR S&P 500 ETF (SPY), which rose by 0.8% on May 2, 2016. Among the 13 large-cap stocks that IBB holds in its portfolio, ten stocks rose and three stocks fell from the previous day's close. The large-cap stocks of IBB account for ~66.5% of IBB's portfolio. On a year-to-date basis, the large cap stocks have fallen by ~18.2%.
The above graph reflects the changes of the large-cap stocks within the iShares NASDAQ Biotechnology ETF (IBB) and the SPDR S&P 500 ETF on May 2, 2016.
Article continues below advertisement
Regeneron RISES on positive results of study
Regeneron Pharmaceuticals (REGN) gained 2.1% and closed at $384.52 on May 2, 2016. The stock rose on the news of positive results from its phase 2/3 fasinumab study in patients with osteoarthritis. In a press release, Regeneron announced "positive topline results from a placebo-controlled Phase 2/3 study evaluating fasinumab in patients with moderate-to-severe osteoarthritis pain of the hip or knee who have a history of inadequate pain relief or intolerance to current analgesic therapies." After 16 weeks, patients treated with four doses of fasinumab "demonstrated a statistically significant improvement in pain relief, the primary endpoint of the study, as well as improvements in the secondary measure evaluating physical function."
Regeneron is trading below its 20-day moving average price. Year-to-date, the stock is down by 29.2%. The relative strength index of Regeneron, which is at 44, indicates that the stock is neither overbought nor oversold. Regeneron is trading at a 2016 forward price-to-earnings multiple of 33.7x. Large-cap peers Celgene (CELG), Amgen (AMGN), and Gilead Sciences (GILD) are trading at 2016 forward price-to-earnings multiples of ~18.5x, ~14.3x, and 7.3x, respectively. Regeneron has a book value of $34.92 per share and at its current price, the stock is trading at a price-to-book value of ~11.0x.
Analyst recommendations and targets
As of May 2, 2016, analysts recommended a 12-month target price of $474.80. 14 analysts have recommended the stock as a "buy," 12 analysts have recommended to "hold" the stock, and one analyst has recommended to "sell." Regeneron has a weight of 7% in IBB's portfolio.