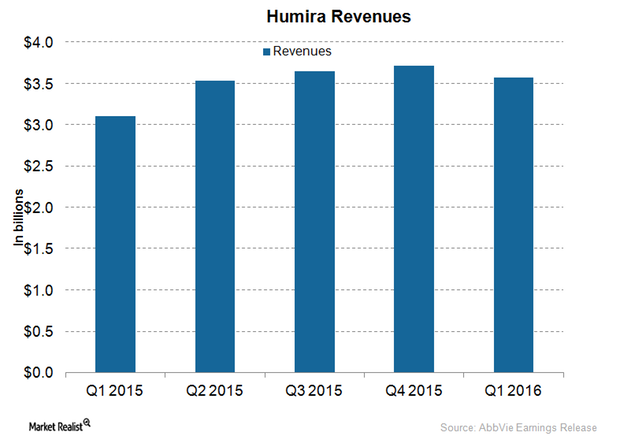 Humira Continues to Be a Strong Growth Driver for AbbVie in 1Q16
Humira performance
AbbVie (ABBV) has projected that Humira's sales in 2016 will be higher than those reported by the drug in 2015 by around 15%–20% in the US. The company also expects that in 2016, the drug's operational revenues from international markets will grow by mid-single digits on a YoY (year-over-year) basis.
In 2Q16, Humira, however, is expected to witness a negative revenue impact of about 4% in international markets, especially in Venezuela, due to currency fluctuations. This may reduce the YoY operational growth rate of Humira in foreign markets to about 3%. For more information about Humira's expected operational performance in 2016, please refer to Indirect Biosimilar Competition May Affect Humira's Revenue Growth.
Article continues below advertisement
1Q16 performance
Humira managed to earn revenues of about $3.6 billion in 1Q16. Excluding the impact of negative foreign exchange fluctuations, Humira has reported 19.2% growth in operational sales on a YoY basis. Considering currency fluctuations in 1Q16, Humira's revenues have grown by about 14.9% on a YoY basis.
In 1Q16, Humira's revenues from the US markets grew YoY by about 31.9% and reached $2.2 billion. The drug reported strong performance in rheumatology, gastroenterology, and dermatology markets in the US. If Humira continues to report a strong performance in future quarters in the US, it may boost AbbVie's share price as well as the iShares Russell 1000 Growth ETF's (IWF) price. AbbVie makes up about 0.91% of IWF's portfolio holdings.
Humira also reported YoY operational revenue growth of about 4.6% in international markets. However, unfavorable currency fluctuations have resulted in a YoY decline of about 4.6% in Humira's reported sales from foreign markets in 1Q16.
The devaluation of the Venezuelan currency coupled with the low availability of US dollars forced AbbVie to convert to a floating DICOM rate. This has negatively affected revenues earned from Venezuela and has also led to a charge of about $298 million in 1Q16. Peers such as Merck (MRK), Sanofi (SNY), and Pfizer (PFE) have also been negatively affected by the economic conditions and currency fluctuations in Venezuela.
In the next part, we'll explore the performance of AbbVie's HCV drug portfolio in 1Q16.