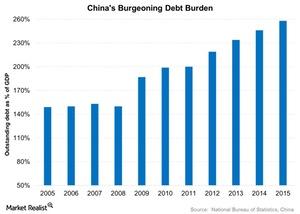 What Do Hedge Fund Managers Have to Say about China?
By Lynn Noah

Nov. 20 2020, Updated 5:24 p.m. ET
Views of hedge fund managers
Hedge fund managers expressed mixed opinions about the Chinese economy at the SALT Conference in Las Vegas on May 10–13, 2016.
Article continues below advertisement
Bearish views
J. Kyle Bass, the founder of Hayman Capital Management, expressed bearish views about China. He said, "China's economy was already experiencing a hard landing, creating one of the biggest macro imbalances the world has ever seen." He earlier described China's debt as a "ticking time bomb."
China's total debt-to-GDP ratio is currently in the range of 240%–270%, compared to 150% a decade ago. China's debt as a percentage of GDP is larger than that of the US or Germany.
Paul Brewer, chief executive officer and chief investment officer of Rubicon Fund Management, was of the opinion that the China's economic problems are worse than the US credit crisis of 2008. Ken Tropin, the founder of Graham Capital Management, expressed concern regarding commodity price speculation, which is driven by retail investors and may lead to another Market crash.
Article continues below advertisement
Bullish views
Roslyn Zhang, a managing director at China Investment Corporation (CIC), stated that most hedge fund managers have a "herd mentality," which is generally seen in Chinese retail investors. At the 2016 SALT Conference on May 11, Zhang said, "People are worried about China…GDP crossed $1 trillion in 1998, doubling in six years. The average GDP rate then was 12%. Post financial crisis growth has slowed down. But if you do the math, from 1992 to 1998, the growth is less than $100 billion. Now, the dollar term growth each year is $1 trillion, even though people are worried. If you are worried about China's growth rate, you should be twice as worried about the economy growing here." According to Zhang, concerns about China's economic growth are overblown.
Similarly, Don Brownstein of Structured Portfolio Management thinks China's problems are overemphasized. He said, "China came out of a huge, huge mess and it is a huge country with a very, very diverse population," he said. "I would rather put my money with a communist government than a capitalist government."
Investors can invest in Chinese stocks through mutual funds like the Fidelity Advisor China Region Fund Class A (FHKAX) and the Guinness Atkinson China and Hong Kong Fund (ICHKX) and through ETFs such as the iShares China Large-Cap ETF (FXI) and the Deutsche X-trackers Harvest CSI 300 China A-Shares ETF (ASHR). These funds invest in companies such as Alibaba Group Holding (BABA), Baidu (BIDU), JD.com (JD), NetEase (NTES), and 58.com (WUBA).
In the next article in this series, we'll look at China's export and import data.