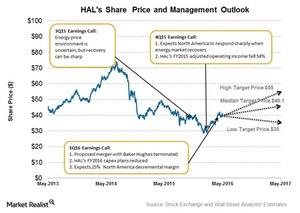 What Are Halliburton's Management's Views for 2Q16?
By Alex Chamberlin

Updated
What does Halliburton's CEO think?
Halliburton Company's (HAL) management expects energy production falls and more challenges for upstream energy producers in 2016.
In the company's 1Q16 press release, Halliburton's chairman and CEO Dave Lesar commented, "Our customers have taken defensive actions to solidify their finances including significant reductions to headcount and capital spend. While these were necessary actions, it clearly will result in production declines in the back half of 2016. But even when operators feel better about the markets, they will still face issues of balance sheet repair and we believe they will be cautious in adding rigs back."
Article continues below advertisement
Is Halliburton expecting recovery in 2Q16?
Halliburton's management expects the US rig count to bottom out in 2Q16 before recovery begins. According to management, HAL's North American operations have been resilient in the face of the rig count crash.
Lesar commented in the 1Q16 press release, "We believe we will see the landing point for the U.S. rig count during the second quarter. Once we see stability in the rig count, our cost cutting measures will start to catch up. Previous downturns indicate that there is typically at least a one quarter lag after the rig count flattens before we see our margins begin to improve."
Halliburton's estimates for 2Q16
The Eastern Hemisphere's (including Asia and Africa) operating margin is expected to fall sequentially by 3% to 4%. This will be due to lower pricing and additional depreciation expenses.
Latin America revenue is expected to fall sequentially by 1%.
North America's decremental margin is expected to be ~25%.
Analysts' targets for Halliburton
While the lowest analyst target price for Halliburton is $35, the highest is $55. The company's median target price, surveyed among sell-side analysts, is $46.1.
Halliburton is currently trading near $40.9, implying a ~13% upside at its median price. Core Laboratories (CLB), Halliburton's peer, has a $124 median target price. Compared to its current price of ~$118, this implies a ~5% upside. HAL makes up 10.4% of the iShares US Oil Equipment & Services ETF (IEZ).
Next, we'll discuss Halliburton's revenue and earnings.